Prentis Hemphill and Swoon in Conversation: Creativity, Healing from Trauma, and Collective Liberation
Friday, December 4, 2020
6:30 pm - 7:30 pm EST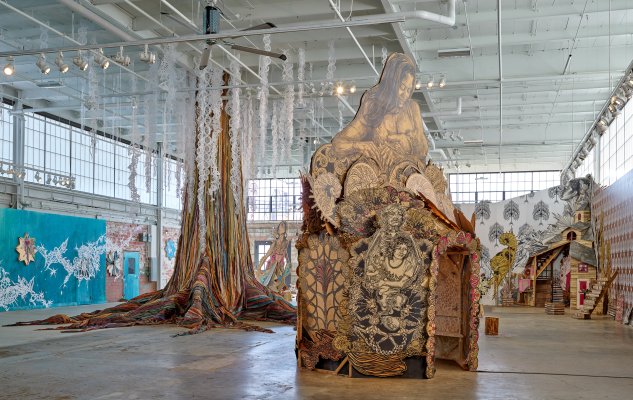 FREE
Virtual Event
Healing in the midst of ongoing trauma is no small task. On the occasion of Swoon: Seven Contemplations, Prentis Hemphill and Caledonia Curry (Swoon) will discuss how they each came to be involved in the work of trauma healing, why they deeply believe that our culture is turning an important page towards a new era of empowerment for people recovering from individual and collective trauma, and how artmaking, community organizing, and embodiment play vital roles that can improve our lives.
Hemphill strives toward an effort at bringing frameworks of healing justice more soundly into current mental health models. Furthermore, Hemphill identifies Black liberation as an essential component of healing justice. Hemphill states, "Our current systems promise complex, compounded, and nearly constant trauma for Black people and ensure that we have little resources, space, time, or energy to heal and little agency to protect ourselves and our loved ones from facing the same. Healing justice is active intervention in which we transform the lived experience of Blackness in our world."
The mainstay of Curry's production is her fearless ability to confront trauma-informed social issues that result in works that are simultaneously individually focused and yet supportive of broad communities. On her journey of self-recognition and healing, Swoon identifies the creative process as one that holds incredible transformational power. Hemphill and Curry believe that each of us has the capacity to heal as our collective paths toward that goal converge in myriad ways.
Registration
Please register online. Registered participants will receive a link to join this virtual event the morning of the program.
About the Speakers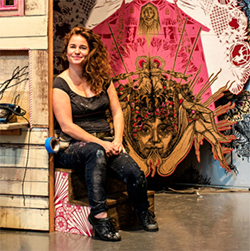 Since achieving acclaim in the early 2000s for her deeply empathetic portraits illicitly wheat-pasted to buildings around New York, Caledonia Curry (Swoon) has expanded to creating sculptures, collages, paintings, and installations for museum and gallery spaces as well as participatory social projects, including working with residents of Braddock, Pennsylvania, on a series of community revitalization and job creation initiatives and developing earthquake-resistant structures in Haiti through Konbit Shelter. Connecting all these endeavors, for the artist, is a deep commitment to a spirit of generosity and an understanding of artmaking and sharing as a process of personal and communal healing and working through monumental change.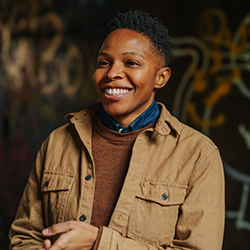 Prentis Hemphill is movement facilitator, Somatics teacher and practitioner, and working at the convergence of healing, collective transformation, and political organizing. Prentis has spent the last 15 years bridging wellbeing and power building as a part of movement building organizations, most recently as the Healing Justice Director at Black Lives Matter Global Network. In 2016, Prentis was awarded the Buddhist Peace Fellowship Soma Award for community work inspired by Buddhist thought. At present, Prentis is the founder and leader of the Black Embodiment Initiative and host of the Finding Our Way Podcast.
Event Sponsor

This event is sponsored by Sarah M. Fallon and John R. Fudyma.