Artist Talk: Amanda Browder
Friday, May 6, 2016
7:30 pm - 8:30 pm EDT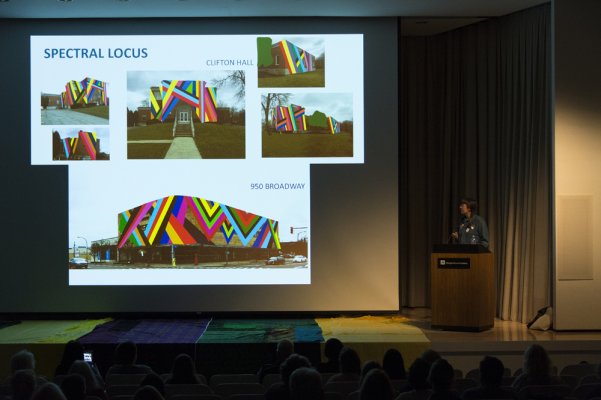 $5 general admission
FREE for Members
Auditorium
Join Brooklyn-based textile and installation artist Amanda Browder (American, born 1976) for an introduction to her work and a discussion of her project Spectral Locus, which will be installed in Buffalo in late August 2016 as part of the Albright-Knox's Public Art Initiative.
Using donated and recycled fabrics and with the assistance of volunteers, Browder creates monumental quilts, covers, and drapes designed to add striking alterations to large architectural structures. Browder will be hosting "public sewing days" throughout the region from April to August to help produce her work Spectral Locus and invites craftspeople, artists, persons with disabilities, and novices alike to join in the production.
To be a part of Browder's project, you are invited to attend the free Drop-in Art Activity: Public Sewing Event with Amanda Browder on May 6 from 4 to 7 pm.
About the Artist
Amanda Browder (American, born 1976) is a textile and installation artist who, with the help of volunteers, uses donated and recycled fabric to create monumental quilts, covers, and drapes designed to add striking alterations to large architectural structures. Browder received her MFA/MA from the University of Wisconsin at Madison in 2001, and taught at the School of the Art Institute of Chicago from 2001 to 2007. She received a Chicago Community Arts Assistant Program Grant in 2006 and again in 2007. Browder is also a founding member of the acclaimed art podcast "Bad at Sports." Visit Amanda Browder's Website
Part of M&T FIRST FRIDAYS @ THE GALLERY
On the first Friday of every month—from 10 am to 10 pm—admission to part of the museum and select events are free for everyone. Certain events and special exhibitions are available for a fee. Learn More