Art of Jazz: Melissa Aldana
Saturday, April 21, 2018
8 pm EDT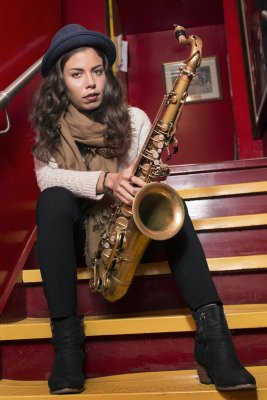 $29 general admission / $24 for Members
Auditorium
Pre-concert Conversation, 7 pm: The Sound of Don Byas
Series producer Bruce Eaton will explore the work of an oft-overlooked tenor saxophone giant. 
The first female instrumentalist and first South American to win the prestigious Thelonious Monk International Jazz Competition, tenor saxophonist Melissa Aldana has undertaken a remarkable musical journey since leaving her native Santiago, Chile, in 2007 to pursue jazz at the highest level in the U.S. With a powerful, fluid sound that bears the playful spirit of her first inspiration, tenor great Sonny Rollins, Aldana weaves the unmistakable roots of her heritage into both striking original compositions and jazz classics in ways that signify her as "bold new talent" (NPR)—"an essential voice . . . a very vital part of the present and future of our music" (producer Todd Barkan, 2017 NEA Jazz Master). Learn more at www.melissaaldana.com.
Tickets
Individual concert tickets are $29 general admission and $24 for Members. Tickets can be purchased online, by phone at 716.270.8292, or in person at the Albright-Knox Admissions Desk. Concerts often sell out in advance of each performance, so please purchase tickets early to avoid disappointment.
About Art of Jazz
Now entering its 18th season as the most successful music series of its kind in Western New York history, the Art of Jazz has established the Albright-Knox Auditorium as one of the premier venues to experience live jazz in North America. Join us for a landmark season presenting some of the brightest international jazz stars—from Grammy Award– and poll-winners to the next generation of jazz legends. View All Art of Jazz 2017–2018 Concerts
AK Café serves lunch on Sundays from noon to 3 pm and will serve dinner before the concerts on Saturday, December 2, and Saturday, April 21. Reservations are essential; please call 716.270.8223 or reserve online using OpenTable.