Art of Jazz: Billy Childs Quartet
Sunday, March 18, 2018
3 pm EDT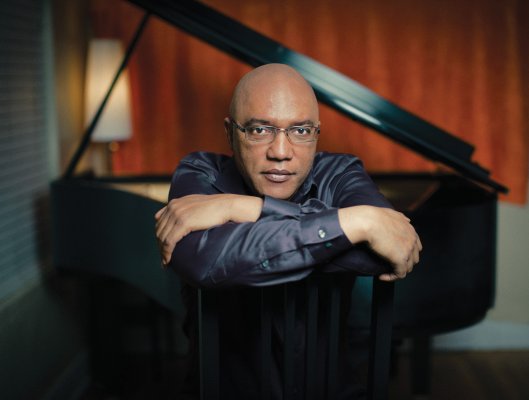 $29 general admission / $24 for Members
Auditorium
Pre-concert Conversation, 2 pm: The Art of the Arranger
Bandleader Tony Zambito (jazzbuffalo.org) will discuss the often-overlooked role of the arranger in jazz.
Five-time Grammy Award–winning (and 15-time nominated) pianist Billy Childs has established himself as perhaps the most distinctly American composer since Aaron Copland. After launching his jazz career playing with Freddie Hubbard and Joe Henderson, Childs created a parallel niche as an in-demand composer and arranger, collaborating with the Los Angeles Philharmonic, Detroit Symphony, and the Kronos Quartet, while also performing with artists ranging from Yo-Yo Ma and Renée Fleming to Chris Botti, Sting, and Wynton Marsalis. His recent release Rebirth (Mack Avenue) marks his long-anticipated return to scintillating hard-bop: "ultra-sophisticated, gracefully crafted jazz, but full of dynamism" (The Guardian). Learn more at www.billychilds.com.
Tickets
Individual concert tickets are $29 general admission and $24 for Members. Tickets can be purchased online, by phone at 716.270.8292, or in person at the Albright-Knox Admissions Desk. Concerts often sell out in advance of each performance, so please purchase tickets early to avoid disappointment.
About Art of Jazz
Now entering its 18th season as the most successful music series of its kind in Western New York history, the Art of Jazz has established the Albright-Knox Auditorium as one of the premier venues to experience live jazz in North America. Join us for a landmark season presenting some of the brightest international jazz stars—from Grammy Award– and poll-winners to the next generation of jazz legends. View All Art of Jazz 2017–2018 Concerts
AK Café serves lunch on Sundays from noon to 3 pm and will serve dinner before the concerts on Saturday, December 2, and Saturday, April 21. Reservations are essential; please call 716.270.8223 or reserve online using OpenTable.