Art of Jazz: The Edmar Castaneda Trio
Saturday, April 27, 2019
8 pm EDT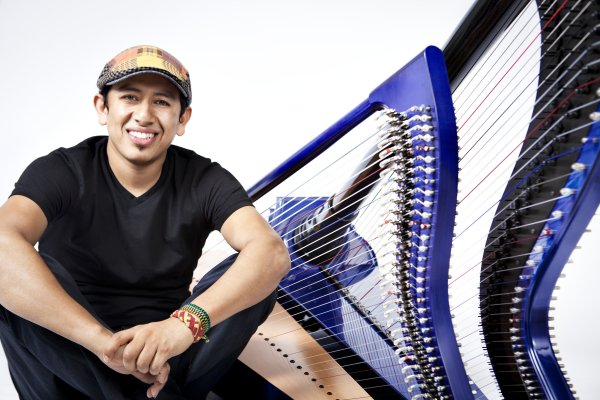 $29 general admission / $24 for Members
Auditorium
Pre-concert Conversation, 7 pm: Hip Harp 
Series producer Bruce Eaton explores the work of pioneer jazz harpists Dorothy Ashby and Alice Coltrane. 
Edmar Castaneda, a native of Colombia, is an unparalleled virtuoso on the harp, recognized around the world for his stunning blend of jazz and the folk music of South America. With his boundless imagination and spellbinding rhythmic dexterity, Castaneda's performances beg for the clichéd description that "he must be seen to be believed." With his longstanding trio featuring Marshall Gilkes (trombone) and Dave Silliman (drums / percussion) generating a joyous cascade of lush colors and dynamic spirit, Castaneda "connects with a crowd wherever he goes thanks to his commanding presence and fast fingers" (Wall Street Journal). His first Buffalo concert promises to be a stunning finish to this season's Art of Jazz series. Learn more at www.edmarcastaneda.com.
Tickets
Individual concert tickets are $29 general admission and $24 for Members. Season tickets for all four concerts are available at a discounted rate of $105 general admission and $85 for Members through the first concert on November 17, 2018. Tickets can be purchased online, by phone at 716.270.8292, or in person at the Albright-Knox Admissions Desk. Concerts often sell out in advance of each performance, so please purchase tickets early to avoid disappointment.
About Art of Jazz
Now entering its 19th season as the most successful music series of its kind in Western New York history, the Art of Jazz has established the Albright-Knox Auditorium as one of the premier venues to experience live jazz in North America. Join us for a landmark season presenting some of the brightest international jazz stars—from Grammy Award– and poll-winners to the next generation of jazz legends. View All Art of Jazz 2018–2019 Concerts
AK Café serves lunch on Sundays from noon to 3 pm and will serve dinner before the concerts on Saturday, November 17, and Saturday, April 27. Reservations are essential; please call 716.270.8223 or reserve online using OpenTable.