Arena Painting: Hamburg with Charles Clough
Saturday, October 25, 2014
9 am - 5 pm EDT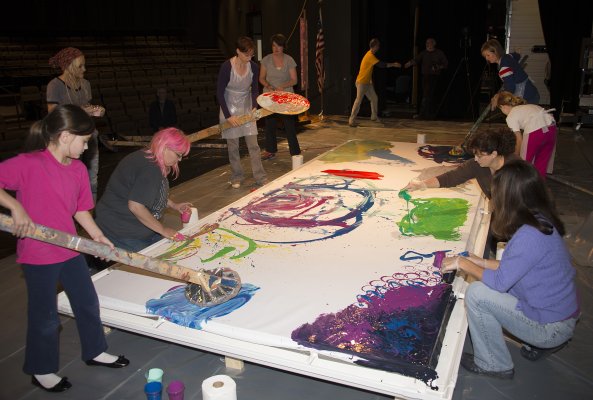 FREE
William E. Swan Auditorium at Hilbert College
Local artist Charles Clough will lead up to two hundred participants over the course of eight hours in the creation of a publicly produced and collaboratively made painting. Under Clough's guidance, participants will have the opportunity to pour pints of paint onto a massive canvas and use Clough's signature "Big Fingers" (industrial-sized and specially crafted paint brushes) to smear, push, and scrape pools of paint according to Clough's trademark abstract method.
The performative experience is at the heart of this work as it changes and shifts with each person's addition, creating a co-authored work that could never have been conceived by any one individual. The final work will be permanently installed in the newly constructed wing of the Hamburg Library, due to be completed in December 2014.
Anyone is welcome to view the event, which is free and open to the public throughout the day in the William E. Swan Auditorium at Hilbert College in Hamburg, New York.
View select photos below, or view a complete photo gallery on Facebook.
About Charles Clough
Charles Clough has taught art at Columbia University and the Rhode Island School of Design and been awarded fellowships from the National Endowment for the Arts, the New York State Council on the Arts, the Pollock-Krasner Foundation, and the Adolph and Esther Gottlieb Foundation. His paintings are included in the collections of more than seventy museums, including those of The Metropolitan Museum of Art, the National Gallery of Art, and the Albright-Knox Art Gallery, which holds more than twenty works by the artist. Clough currently lives in East Aurora.