Mandi Caskey, aka Miss Birdie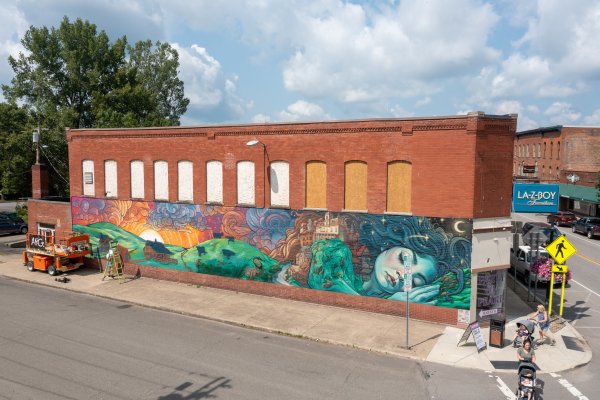 Location: Pearl Street & East Main Street, Springville, New York (Get Directions)
Mandi Caskey (American, born 1993), also known as Miss Birdy, is a muralist, gallery artist, and community activist based in Columbus, Ohio. She is a cofounder of Catalyst Columbus, a public art–focused foundation that uses art to address social issues affecting the city. Caskey looks for projects that embed her into the communities and spaces where she is painting. Often containing whimsical nods to the environment she is in, Caskey's work organically moves between realism and fantasy within a narrative context.
Caskey's time in Springville, New York, is the result of a collaborative project between Springville Center for the Arts and the Buffalo AKG Art Museum's Public Art Initiative. This residency project involved Caskey living in Springville for a month, where she held workshops with young people, gave talks, and practiced her art. The residency culminated with the execution of the mural A Wish on the Wind.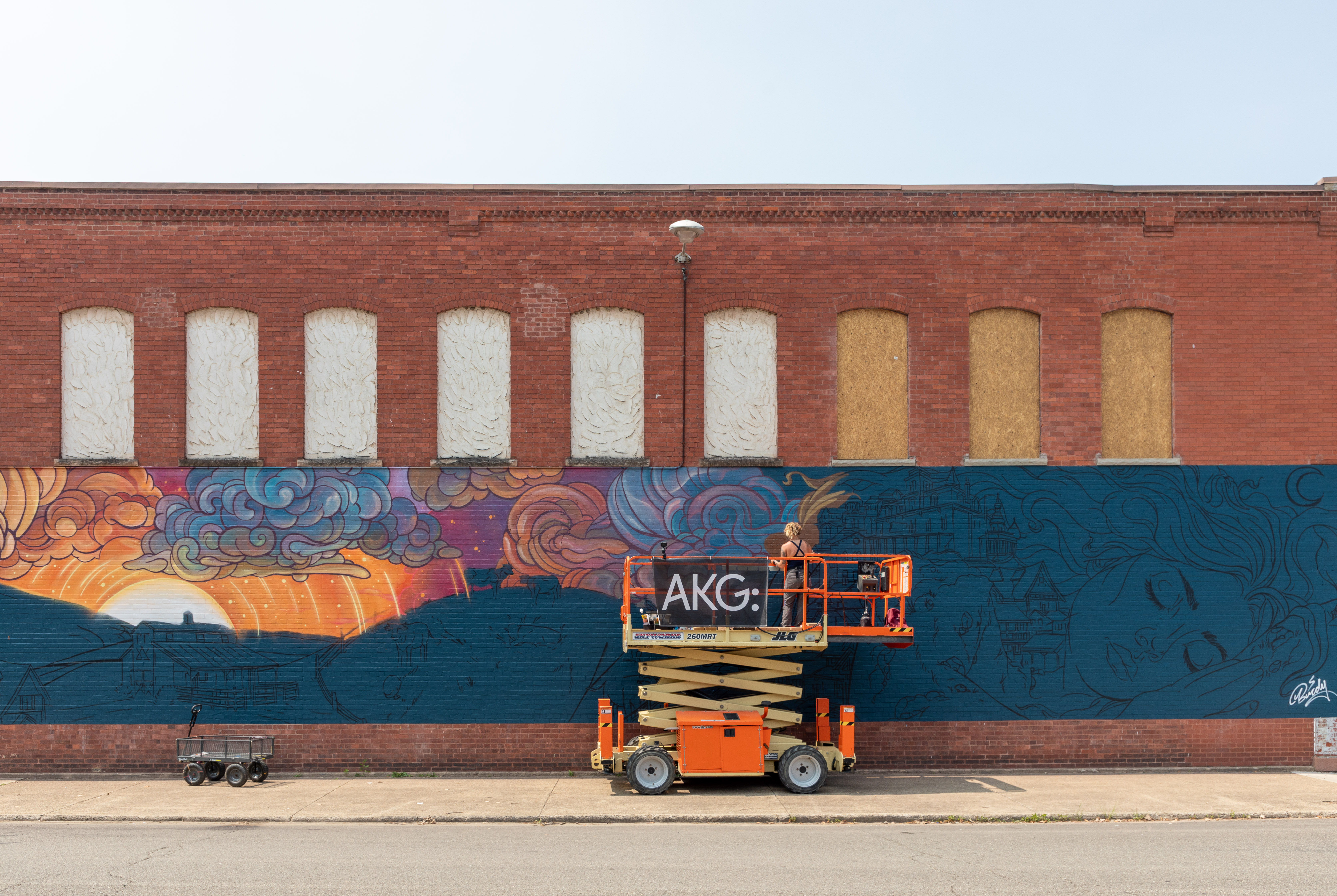 Caskey writes:
A Wish on the Wind
A fairy tale painted for the people of Springville


A giantess; ancient and wise, fell in love with the land she roamed.
It supplied her with all the things she needed, and always gave without asking for anything in return.
So in her years she wished to become a part of it forever.
One day, the giantess came across a place where the moon wraps her cool and gentle, while the sun warms her in an embrace.
She became so comfortable in the folds of the land and held it so tightly that eventually she fell into a deep sleep.
While she gives her heart to the earth,
She allows her body to become forever a place forcreatures to roam and be given the fruits of her love.
Like she was given, from the place she calls home.
Caskey's tale represents the inherent connection humans have with the lands around them. In personifying the earth through the giant, Caskey celebrates the way it provides so much for the living creatures that inhabit it. Details in the mural are pulled from images and research conducted by Caskey on trips made to Springville in the lead up to her residency, especially the mythological giants noted on Indigenous maps she studied at the Concord Historical Society.
Project Sponsors

This mural has been made possible by: the membership of Springville Center for the Arts; support from the Springville Regional Coalition with funding through the Drug Free Communities program; grants from Ralph C. Wilson, Jr. Arts & Culture Initiative administered by the Community Foundation for Greater Buffalo, Creatives Rebuild New York (CRNY), a project of Tides Center; as well as public funds provided by the County of Erie and New York State Council on the Arts with the support of Governor Kathy Hochul and the New York State Legislature.