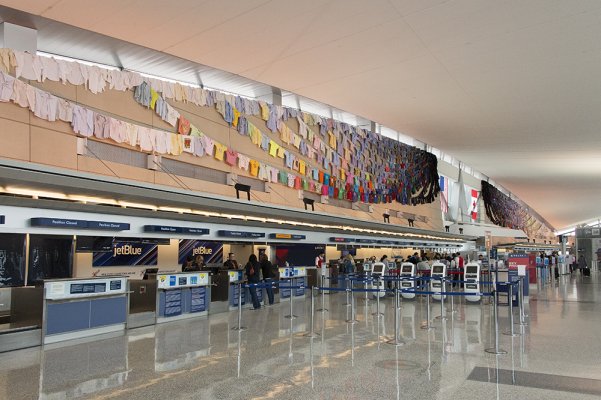 Fall 2015–Spring 2017
Buffalo Niagara International Airport 
In summer 2015, the people of Western New York donated more than 1,000 shirts for Kaarina Kaikkonen's monumental public artwork We Share a Dream. Assisted by a team of local volunteers, Kaikkonen attached the shirts at the sleeves, or "hands," suggesting human connection even in absence. Our daily commutes, the migratory moments of travel, and our formative explorations are all represented in these ties.
The final work was installed above the main ticketing area in the publicly accessible lobby of the Buffalo Niagara International Airport. The curved wings of the walls, flanking the security entrance in the middle, offer a substantial and dramatic site for the presentation of the work.
Through repeated encounters, travelers establish different yet specific connections with the clothing in the installation. Each of us can relate to the intimate touch and feel of our own clothes, the comfort they provide, and the identities they allow us to embrace. The complexity of the personal history and emotion embedded in each piece of clothing is amplified by the collective nature of the artwork.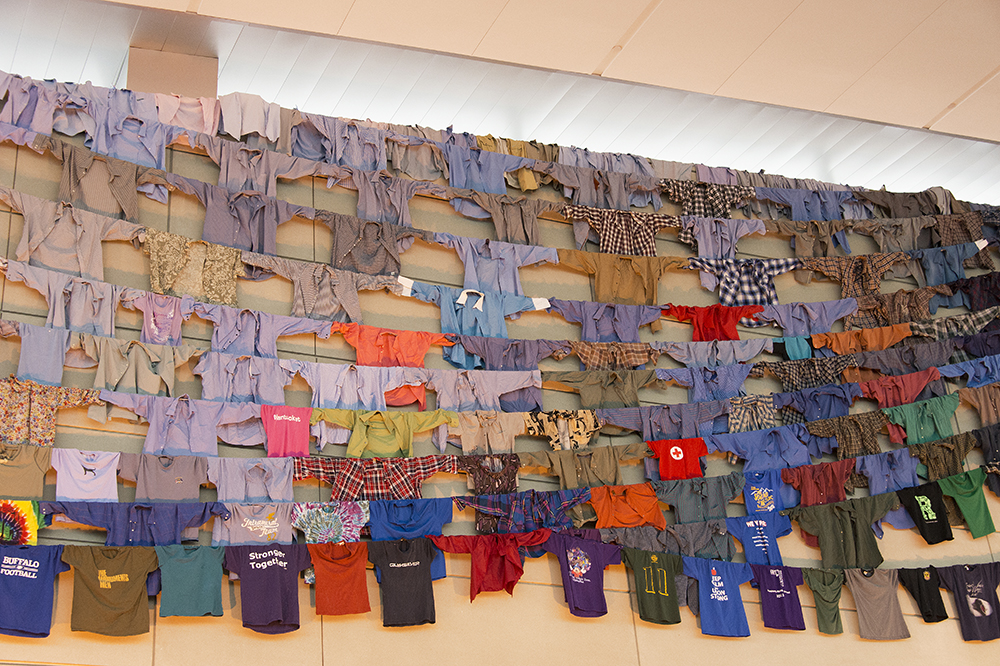 About Kaarina Kaikkonen
Kaarina Kaikkonen (Finnish, born 1952) is an internationally renowned installation artist who works with masses of clothing to alter our perception of shared spaces and shared lives. Her projects are often cooperative in nature, seeking donated clothes from public sources and working with teams of local artists to create the final work. Visit Kaarina Kaikkonen's Website
Thank You!
Many thanks to the following partners, who made this project possible: Peter Grace of Siracuse Engineers; Jon Spielman of Griffis Studio; Shawn Foti, Jeff Kolaga, and Mike Kolaga of Clark Rigging & Rental; Mary Jean Jakubowski and Anne Connable of the Buffalo and Erie County Public Library; Albright-Knox Public Art Projects Coordinator Eric Jones; and Albright-Knox Art Preparators Kyle Butler, Marissa Lehner, Melissa Moody, Dana Tyrrell, and Jeff Vincent.
Project Sponsors

This project has been made possible, in part, through the support of Corvette Cleaners.