Felipe Pantone
Spanish, born Argentina, 1986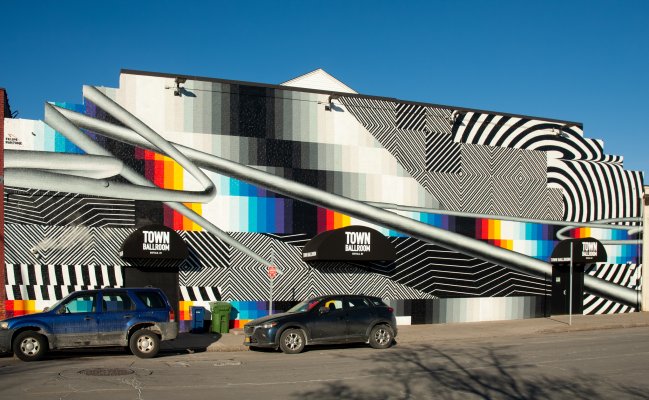 Location: Washington Street between East Tupper and East Chippewa Streets (back of Town Ballroom) (Get Directions)
Felipe Pantone's project for Town Ballroom covers the legendary concert venue's Washington Street façade with the artist's signature fusion of mesmerizing black-and-white patterns with bold prismatic forms and oversized fluorescent pixels. For the artist, these and similar elements serve as a set of endlessly reconfigurable building blocks that form the basis of his murals, sculptures, and paintings. While this approach to artmaking speaks to the endless cycles of duplication and transformation characteristic of digital art and culture, Pantone takes a long view of technological progress. He sees the computer modeling programs he uses in developing his designs as part of a continuum of image-making innovations alongside the pencil and oil paint of his studio practice and street art creations. From this vantage point, the artist is at heart an optimist about the positive potential of a digital future to make the world a more dynamic and connected place.
About the Artist 
Pantone (an alias derived from his graffiti moniker "Pant" or "Pant1"; he only later learned of the happy coincidence with the name of the color company) began illicitly painting on the streets of his hometown of Valencia, Spain, when he was twelve. After experimenting with numerous graffiti styles as a teenager and young adult, he found himself drawn to the Op and Kinetic art of the 1960s—especially the work of Carlos Cruz-Diez, Julio Le Parc, Luis Tomasello, and Victor Vasarely, all of whom are represented in the Albright-Knox's collection—as a primary source of inspiration for his current imagery. While today Pantone also creates paintings and sculptures in a dedicated studio space, he finds himself continually drawn back to the unique energy of the street and the challenge of working outdoors and in public.
Initiative Sponsors

The Public Art Initiative was established and is supported by leadership funding from the County of Erie and the City of Buffalo.