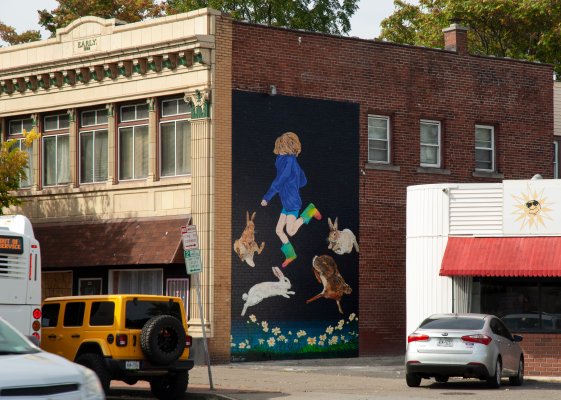 Location: 3124 Main Street, Buffalo, New York (Get Directions)
Alyssa Capri (they/them) has been making art since childhood, beginning a practice that has grown to include a variety media, such as paint, ink, sculpture, and installations. Their work asks us to hold softly to those qualities, such as wonder and imagination, that children have in abundance and adults sometimes lose. Rendered with color and playfulness, challenging themes drawn from the world and Capri's personal experience can slip by the viewer's defenses to strike a deeper resonance.
Leap pays homage to the kind of storybook illustrations we might recall from childhood. Capri invites viewers to imagine the story that delivers this scene. The mural is a reminder that imagination and wonder are powerful tools to experience happiness, even in dark times.