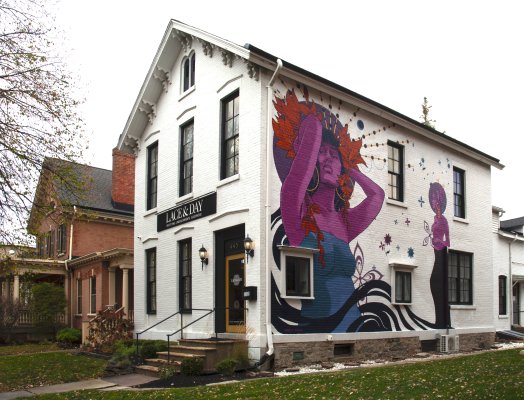 Location: Lace & Day, 445 Franklin Street, Buffalo, New York 14202 (Get Directions)
For some, beauty can be an alienating and objectifying term. When the owners of Lace & Day, Emily Constantine Doren and Holly Constantine Ortman, proposed a mural for their shop, they wanted to conjure up something different. They hope to create a place that is for everybody: cis, trans, nonbinary, curvy, skinny, working, however you are. They hope to help us to see beauty as something we already have.
Monet Kifner responded to the call with a new figural work that embodies an idea of beauty as a quality that is internal, transcendent, and transcultural. Kifner has already created one work for the Buffalo AKG as part of Cobblestone Commons, 2021–22. Like that image, Kifner here also uses all the tools of her Afro-Futurist practice. If Afro-Futurism asks us to imagine a future in which all life thrives, Kifner's work asks us to consider that not finding beauty in another could be a failure of our imagination. The Divine Feminine primes our imaginations for that challenge.