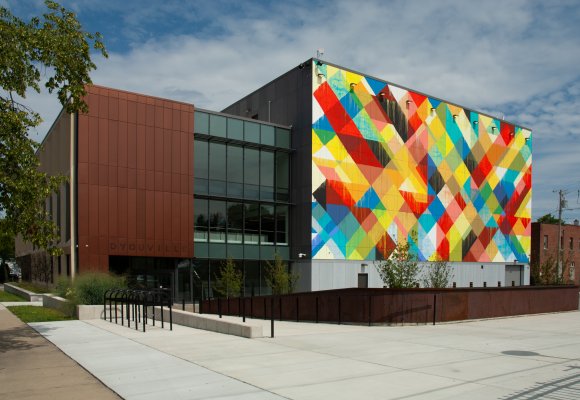 Location: D'Youville University Health Professions Hub (Get Directions)
Maya Hayuk's parents fled Ukraine during World War II and entered the United States as refugees. As a first-generation American, Hayuk identifies deeply with both her cultural heritage and her American upbringing. Her lush, vivid, and unmistakable works are inspired by popular culture as well as Ukrainian folk art.
An internationally acclaimed artist, Hayuk creates elaborate abstractions composed of intricate, symmetrical combinations of color formed by crisscrossed and overlapped diagonals of different tones and perspectives. Her lively paint application, vibrant drippings, and dynamic movements express joyous energy. Hayuk weaves visual information from her immediate surroundings into her works, using advanced painting practices to create an engaging mix of references to local culture. She has painted her iconic outdoor murals all over the world and, when not traveling, maintains an active studio in Brooklyn, sketching in paint to inform her unique large-scale works.
Project Sponsors

Support for Maya Hayuk's Buffalo Soldier Wing Stance (The Tree of Y), 2021, was provided by D'Youville University through a donation by Philip Perna, Linda Perna Ball, and Mary Jo Perna in honor of their late mother, Phyllis Esposito Perna, D'Youville class of 1942.
Initiative Sponsors

The Public Art Initiative was established and is supported by leadership funding from the County of Erie and the City of Buffalo.
Share your photos of #AKGPublicArt on Twitter, Facebook, and Instagram