Paul Pfeiffer: In the Zone
Sunday, November 7, 2010–Sunday, March 6, 2011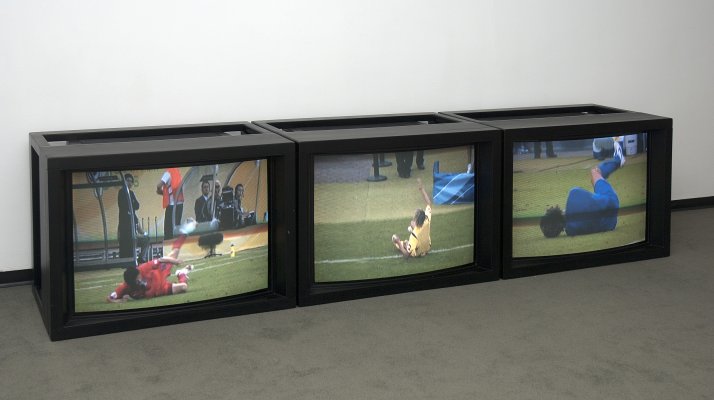 Gallery for New Media
"As a visual artist I am interested in the conditions of perception. Even though television is far from the laboratory conditions of the painter's studio, I think it's a very interesting model to study: it deals with overwhelming situations."
– Paul Pfeiffer, 2003
Paul Pfeiffer (American, born 1966) is part of a recent generation of artists who challenge notions of the contemporary spectacle in a society overwhelmed with iconic images produced by the mass media. Pfeiffer appropriates still and moving imagery from popular culture—including movies and televised sporting events—and digitally manipulates them. Through this process, he creates seemingly endless moments that direct the viewer's attention to singular details rather than the original contexts of the images. Unlike many of his predecessors working in film and video, Pfeiffer is not trying to create, or provide for the viewer, a cinematic experience. Instead, he builds on historical precedents by selecting and manipulating archival images to create innovative new works, or what he calls "video sculptures." These works challenge us to decipher narratives based on both our recognition of the preexisting imagery and the modifications that Pfeiffer has made.
This exhibition presented three newly acquired sculptural-based video works by Pfeiffer that focus on the history of sports culture and spectatorship. By concentrating on professional sporting events—and often digitally erasing the athletes, leaving only their ghostly outlines—Pfeiffer meditates on a culture obsessed with sports celebrity. To find just the right moment to work with, Pfeiffer reviews an overwhelming amount of material. Much like the process of a sports photographer who must look through hundreds (sometimes thousands) of unusable images to select just the right one, Pfeiffer's process is laborious and time-consuming. And like a painter who methodically builds up the layers on a painting, Pfeiffer must be extremely meticulous when erasing or otherwise manipulating an image. The final work, often presented to viewers within the intimate framework of a small monitor or television screen, cleverly exchanges the process of viewing an artwork with the role of being a spectator.
This exhibition was organized by Curator for the Collection Holly E. Hughes for the Gallery for New Media.
About the Gallery for New Media
The Gallery for New Media is a new exhibition space that features an ongoing series of solo and thematic exhibitions of artists working in film, video, and other forms of time-based media. Forthcoming exhibitions will be organized using works from the museum's collection, as well as special projects, and will be featured as part of the museum's ongoing programming.
Program Sponsors

This exhibition was made possible, in part, by the generous support of Deborah Ronnen.