The Paintings of Sylvia Plimack Mangold
Saturday, September 24, 1994–Saturday, December 31, 1994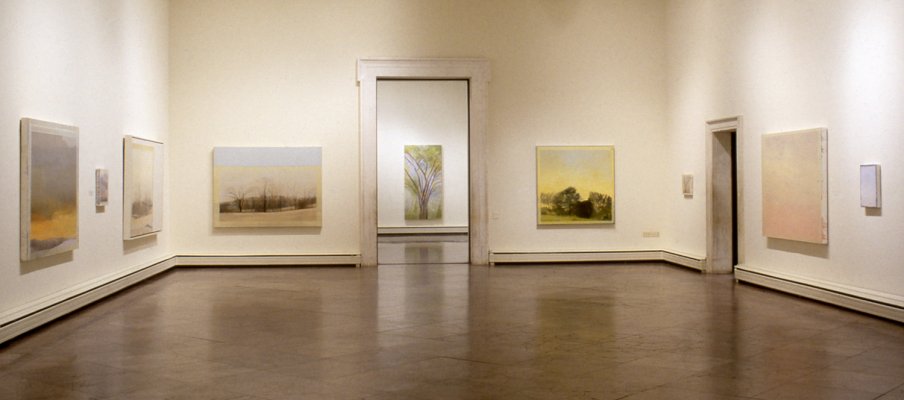 1905 Building
This exhibition featured 60 paintings representing more than 25 years of Sylvia Plimack Mangold's work, from the early and meticulously rendered paintings of floors and walls, the dark yet luminous nocturnal landscapes, and views of the sky and trees near her home and studio in Washingtonville, New York, to the beautiful and most recent large-scale works of solitary trees.
A native of New York, Plimack Mangold received a B.F.A. from Yale University in 1961. At that time, she was, along with her peers Eva Hesse, Sol LeWitt, Robert Mangold, and Robert Ryman, among others, in the midst of the conception of minimalist aesthetics. Unlike her contemporaries, however, she explored these aesthetics by painting in a manner seemingly traditional and always based on rigorous observation.
A fully illustrated, 144-page catalogue, published by Hudson Hills Press, New York, in cooperation with the museum, documented the exhibition. It included an essay by Senior Curator Cheryl Brutvan as well as selections from Plimack Mangold's diaries and notes, reproduced in facsimile, and extensive documentation. In addition, the artist produced a special edition drypoint to be sold in the Members' Gallery in conjunction with the exhibition.
The exhibition traveled to the Wadsworth Atheneum, Hartford, Connecticut; the Sarah Campbell Blaffer Gallery, University of Houston, Texas; and the Museum of Fine Arts, Boston, Massachusetts.
This exhibition was organized by Senior Curator Cheryl Brutvan.
Exhibition Sponsors

This exhibition was supported by a federal agency, and with public funds from the New York State Council on the Arts. Additionally, The Honorable and Mrs. Peggy T. Elfvin, the Members' Council of the Gallery, and the Gallery Art Tour was generous in their support of this exhibition.