My Point of View: Photographs by Moneta Sleet, Jr.
Wednesday, March 23, 1994–Sunday, May 22, 1994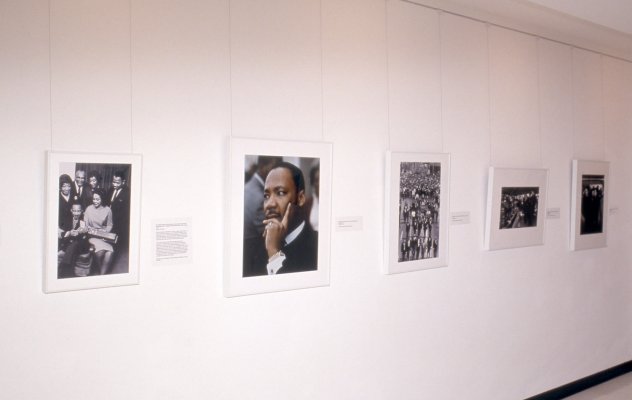 Clifton Hall Link
This unique collection of photographs, owned by the Saint Louis Art Museum, chronicled the work of Moneta Sleet, Jr. Sleet was the staff photographer of Ebony magazine from 1955 until 1996.  
Sleet received the Pulitzer Prize in feature photography — the first African-American to win the award — for his widely known photograph of Coretta Scott King and her daughter Bernice at the 1968 funeral of Dr. Martin Luther King, Jr. In addition to this perceptive image, the exhibition was comprised of memorable photographs of the Civil Rights Movement including those of the Selma March and Dr. King receiving the Nobel Peace Prize. There were pictures of African Independence celebrations, compelling portraits of celebrities such as jazz musicians Miles Davis and Billie Holiday and a series of images of children.
This body of work provides a direct connection to the 1970s, when images such as these were powerful and poignant witness to the growing independence and freedom of people around the world. Selected by the artist himself, this retrospective represents the various aspects of Sleet's exceptional career from 1956 to the early 1990s.
This exhibition was organized by Mejon Cherise Smith, the Saint Louis Art Museum's Romare Bearden Scholar for 1992–1993.
Exhibition Sponsors

This exhibition was made possible through a grant from the Metropolitan Life Foundation. Additional financial assistance was provided by the AT&T Foundation, the Missouri Arts Council, and the National Endowment for the Arts.