Modigliani & the Artists of Montparnasse
Saturday, October 19, 2002–Sunday, January 12, 2003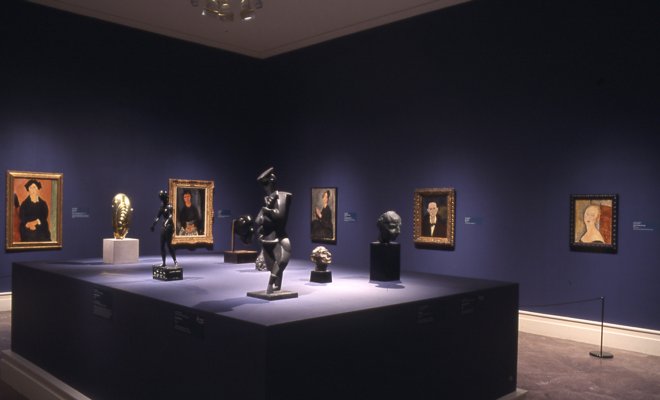 1905 Building
Famous for his elongated forms, graceful portraits, and lush nudes, Amedeo Modigliani (1884–1920) is among the most beloved of the international artists who lived in Montparnasse, Paris, in the early twentieth century. This exhibition placed Modigliani and his work in the context of his friends and contemporaries, all living and working in what Marcel Duchamp described as "the first truly international group of artists we ever had." Artists such as Constantin Brancusi, Giorgio de Chirico, Henri Matisse, Pablo Picasso and Chaim Soutine revolutionized creative expression by exploring a myriad of artistic influences that included non-Western art and abstraction. The resulting art is striking for its diversity: Cubist, Expressionist, and Primitivist, with Modigliani's painting, sculpture, and works on paper embodying all of these elements.
Born into an Italian Jewish family, Modigliani established a successful career during his lifetime in spite of personal struggles and a tragically short life, dying of tuberculosis at age 35. In order to provide a full and rich understanding of his art, this exhibition and its accompanying catalogue explore Modigliani's relationship with Montparnasse, as well as the avant-garde movements and figures of the time.
Albright-Knox Curator Kenneth Wayne organized this major exhibition, gathering masterworks from world-renowned museums and collections throughout North America, Europe, and Japan. 56 of Modigliani's paintings, sculptures, and works on paper were featured, including important works from the museum's distinguished collection. The exhibition was accompanied by a 240-page catalogue illustrated with 87 plates in full color and 102 in duotone, published by Harry N. Abrams, Inc. in association with the Albright-Knox Art Gallery. In addition to new information about Modigliani and his contemporaries, the catalogue contains excerpts from a surrealistic novella written by one of Modigliani's lovers, Beatrice Hastings.
The Albright-Knox premiered this exciting exhibition and was the only venue in the Eastern United States, before it traveled on to the Kimbell Art Museum, Fort Worth, Texas, and Los Angeles County Museum of Art, California.
This exhibition was organized by Curator Kenneth Wayne.
Exhibition Sponsors

The exhibition was made possible, in Buffalo, by the generous support of M&T Bank. It was supported by an indemnity from the Federal Council on the Arts and Humanities and, in part, by a grant from the National Endowment for the Arts.