Joan Mitchell
Saturday, September 17, 1988–Thursday, November 17, 1988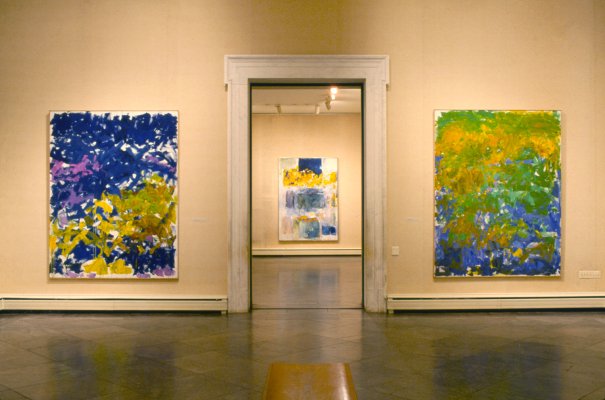 1905 Building
This first major traveling retrospective of Joan Mitchell's work featured approximately 60 paintings, drawings, and prints spanning 36 years of the artist's career.
Of all her contemporaries, Mitchell has been the most consistently and deeply committed to the subject of landscape. Although the titles of many of her works suggest landscapes, Mitchell does not paint directly from nature, but from her memories and feelings about it. "I would rather leave nature to itself," she wrote in 1959. "It is quite beautiful as it is. I do not want to improve it. . . . I could certainly never mirror it. I would like to paint more what it leaves with me."
Joan Mitchell was the first occasion to study Mitchell's complete artistic development. It was organized chronologically and by theme and featured works from 1951 to the 1980s. It included all three of the Albright-Knox's works by the artist: George Went Swimming at Barnes Hole, but It Got Too Cold, 1957; Blue Territory, 1972; and Rosebud, 1977.
This exhibition was organized by Dr. Judith E. Bernstock, guest curator at the Herbert F. Johnson Museum of Art, Cornell University, Ithaca, New York.
Exhibition Sponsors

This exhibition is funded, in part, by public funds from the National Endowment for the Arts.