Jess: A Grand Collage, 1951–1993
Sunday, September 12, 1993–Sunday, October 31, 1993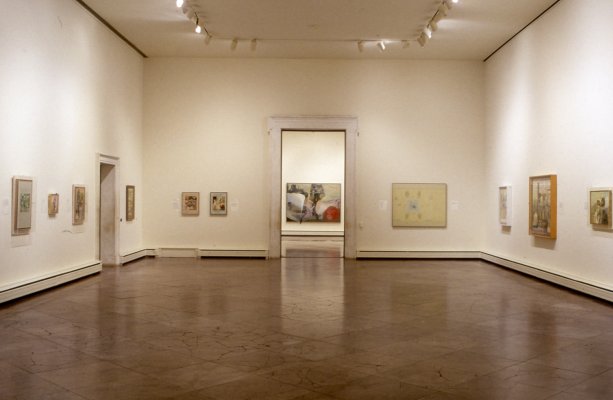 1905 Building
Jess: A Grand Collage 1951–1993 heralded the fall 1993 exhibition season with 83 works by this complex and fascinating artist. The exhibition drew upon organizer and Chief Curator Michael Auping's 15-year association with Jess. Included was the monumental "paste-up," The Unentitled Graces, 1978, a gift to the museum in 1992 by Mr. and Mrs. Armand J. Castellani.
All of the major developments in Jess's work were represented in the exhibition: "nonobjective" and "romantic painting" from the 1950s and early 1960s — richly impastoed canvases inspired by a complex mix of autobiography, children's fairly tales, and mythology. "Translations" — elaborately painted reproductions of old photographs and 19th and early 20th engravings; "paste-ups" — intricate, large-scale collages that began in 1951 and continue to the present; and "salvages" — remade paintings from the artist's past or those found in second-hand stores or thrift shops. This was the first time that all of those series have been brought together as a comprehensive overview of the artist's career.
An exhaustive, fully illustrated catalogue of 246 pages accompanied the exhibition. A special reception in honor of volunteers was also held in conjunction, and a lecture prepared expressly for that event was given by Auping.
The exhibition traveled to four other venues following the Albright-Knox: the Walker Arts Center, Minneapolis, Minnesota; the San Francisco Museum of Modern Art, San Francisco, California; the Museum of Fine Arts, Boston, Massachusetts; and the Whitney Museum of American Art, New York, New York.
This exhibition was organized by Chief Curator Michael Auping.
Exhibition Sponsors

This exhibition was supported by a grant from the National Endowment for the Arts in Washington, D.C., and with public funds from the New York State Council on the Arts.