Forty: The Sabres in the NHL
Sunday, November 7, 2010–Sunday, January 9, 2011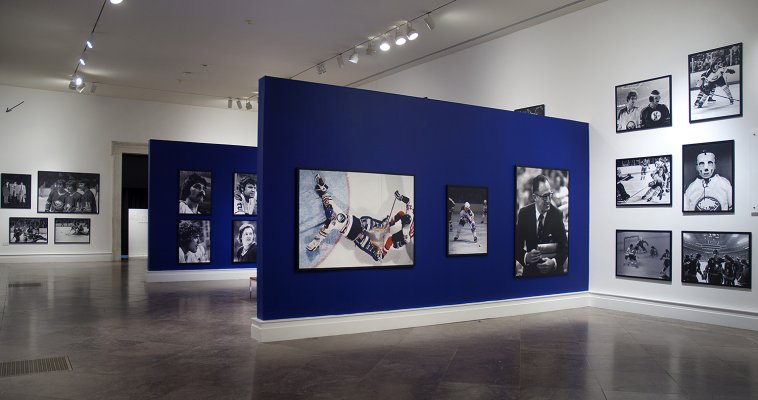 1905 Building
Forty: The Sabres in the NHL featured more than 200 images taken from 1970 to 2010, providing a pictorial survey of 40 years of the Buffalo Sabres in the NHL. The exhibition also featured an exciting experiential film and video installation designed by the Buffalo Sabres. Its presentation coincided with the Sabres's Fortieth Anniversary in the National Hockey League. The exhibition remained on view as part of the celebration during the 2011 IIHF World Junior Championship. The Stanley Cup and other trophies from the Hockey Hall of Fame were also on view from January 2 through January 5, 2011.
The exhibition was a visual journey rich with memories of long ago. It also revealed the passion, beauty, and grit of professional hockey. Through the lens of photographers Ron Moscati, Robert Shaver, and Bill Wippert, we experienced the speed, physicality, and excitement of the game. These photographers also gave us a behind-the-scenes look at Sabres coaches, staff, arena workers, and fans.
Essays for the accompanying brochure were contributed by writer and artist Richard Huntington, longtime critic for The Buffalo News; Brendan Bannon, an outstanding artist and a lifelong hockey fan; John Massier, Visual Arts Curator for Hallwalls Contemporary Arts Center, who has spent a lifetime around the rink; and Mrs. Seymour H. Knox III (Jean Knox), an avid fan during the years of the Knox family leadership. While we considered inviting sports or hockey writers, the director believed the art of the sport can be revealed through artists' perspectives.
This exhibition debuted a new and innovative video installation, NHL in 360, produced by the Buffalo Sabres's Director of Broadcasting Chrisanne Bellas, Lead Broadcast Editor Drew Boeing, and Videographer Mark Blaszak. The installation gave viewers a glimpse of the thrill that hockey players experience during the game—the required skill, brute physicality, and elegance of skating at great speed.
This exhibition was organized by the Buffalo Sabres Foundation with the Albright-Knox Art Gallery.
About the Photographers
Bill Wippert
Sabres Team Photographer Bill Wippert has been documenting Sabres games since the team's memorable run to the 1975 Stanley Cup Finals. Wippert began shooting photographs on black-and-white film for team publications. In the mid-1980s, he switched to color slides, using ceiling-mounted strobe lights for the sharpest, most colorful images. By 2001, Wippert began shooting strictly with digital cameras, which he still does today. Wippert remains a full-time staff photographer for The Buffalo News, shooting a variety of photographs for the newspaper and BuffaloNews.com.
Ron Moscati
Ron Moscati spent twenty-five years as chief photographer at the Buffalo Courier-Express, followed by twelve years with The Buffalo Evening News until his retirement in 1995. Moscati gained international recognition in the 1970s when his photo of a Buffalo firefighter diving through a third-story window to escape flames won a runner-up placing in the Pulitzer Prize competition. Hockey fans will forever remember his photograph—taken from a vacant television platform—of Philadelphia Flyers goalie Bernie Parent shrouded in fog during Game 3 of the 1975 Stanley Cup Finals.
Robert Shaver
Robert Shaver was a noted sports photographer from the Buffalo area who began shooting Sabres games in 1970 while still working as a long-haul semi truck driver. His memorable photograph of Eddie Shack "riding" on the back of an opponent is considered one of the most famous images in hockey history. Shaver captured the action from his usual shooting spot at The Aud—"corner, visitors' end."
Project Team
Forty: The Sabres in the NHL was organized by the Buffalo Sabres Foundation with the Albright-Knox Art Gallery.
The Buffalo Sabres
Tom Golisano, Owner
Larry Quinn, Minority Owner & Managing Partner
Dan DiPofi, Minority Owner & Chief Operating Officer
Frank Cravotta, Director of Creative Services
Rob Kopacz, Director of Marketing
Michael Gilbert, Director of Public Relations
Chrisanne Bellas, Director of Broadcasting
Vicki Sitek, Graphic Artist
Melissa Gebhardt, Graphics Consultant
Kevin Snow, Manager of Publications & Hockey Information
Drew Boeing, Lead Broadcast Editor
Matt Gould, Segment Producer
Mark Blaszak, Videographer
NHL in 360 was produced by Chrisanne Bellas, Mark Blaszak, and Drew Boeing.
Albright-Knox Art Gallery
Bryan Gawronski, Interim Head of Operations
Louis Grachos, Director
Jody Hanson, Senior Art Preparator
Pam Hatley, Head of Publications
Tom Loonan, Media Specialist
Pamela Martin, Editorial Assistant
Maria Scully-Morreale, Interim Head of Marketing, Corporate & Public Relations
Special thanks to:
Kevin Bohner, System Design Manager, Stereo Advantage
Hockey Hall of Fame, Toronto, Ontario
Richard Huntington
Paul Patskou, Sports Researcher and Audio/Visual Archivist
Program Sponsors

This exhibition was generously funded by the Buffalo Sabres Foundation and is presented in honor of Seymour H. Knox III and Northrup R. Knox, in celebration of their important role in the National Hockey League's decision to expand to the City of Buffalo for the 1970–71 season.

Audio and video equipment and support were graciously provided by Stereo Advantage and SIM2.