Ellie Ga: It Was Restored Again
Saturday, May 31, 2014–Sunday, September 14, 2014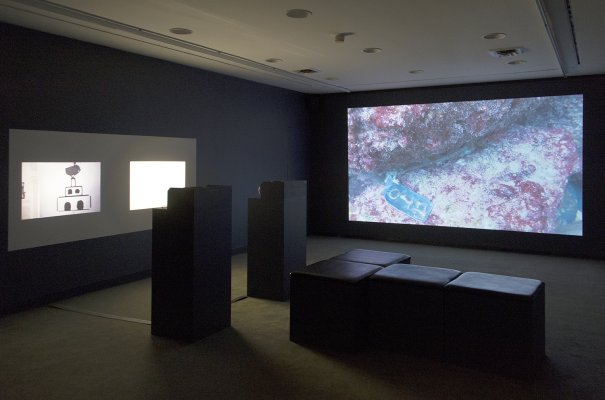 Gallery for New Media 
Ellie Ga (American, born 1976) bases her narrative projects on historical and geographical explorations that span a wide range of media, including performance, photography, video, sculpture, and installations. Ga uses these tools to probe the distinctions between documentary and fiction, personal and civic histories, textual and visual information, and photography and film. Her most recent series of works, "Square, Octagon, Circle," 2012–14, uses the ancient Pharos Lighthouse of Alexandria, Egypt, as a point of departure. This exhibition—Ga's first solo exhibition in an American museum—featured two new works from this series: Sayed and It Was Restored Again.
Through a series of interviews with historians and archaeologists, Ga brings history to life as she rekindles the vestiges of the lost Pharos Lighthouse, one of the Seven Wonders of the Ancient World. In the single-channel video Sayed, 2013, the viewer becomes an underwater witness as Ga and her dive guide navigate the stone ruins beneath the ancient site and discuss the many gaps in current archaeological knowledge. It Was Restored Again, 2013, comprises 180 slides that stitch together centuries of efforts to accurately represent the lost Wonder; these include written and verbal descriptions, as well as images rendered by historians, archaeologists, artists, proud Alexandrians, and amateurs. Ga's works draw viewers into a world of memory, in which fact is always shadowed by ownership disputes, myth, and centuries of speculation.
This exhibition was organized by Curator for the Collection Holly E. Hughes and Curator Cathleen Chaffee.