Diamonds Are Forever: Artists & Writers on Baseball
Saturday, May 16, 1992–Sunday, July 5, 1992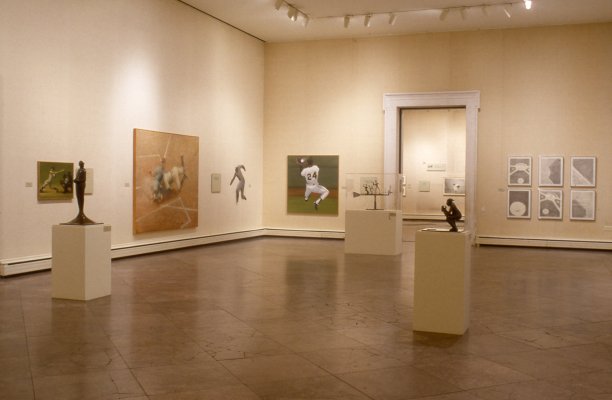 1905 Building
Diamonds are Forever was a traveling exhibition featuring more than 120 works inspired by the social and cultural significance of this favorite American pastime, organized by the New York State Museum.
The exhibition was organized into five themes, each highlighting feelings, events or memories associated with the game: The Place, The Equipment, The Players, The Action and Something Else. The show included significant paintings, drawings, prints, photographs and videos by artists such as Andy Warhol, Elaine de Kooning, and Robert Rauschenberg. Literary passages by Woody Allen, Philip Roth, William Kennedy and Ernest Hemmingway, among others, revealed how the game and vernacular of baseball has enriched the pages of American literature. In addition, the exhibition included a video of segments on baseball by humorists Abbott and Costello, Billy Crystal and Jonathan Winters.

A fully illustrated catalogue, edited by Peter Gordon, curator of the New York State Museum in Albany, with Sydney Waller and Paul Weinman, and featured an introduction by Donald Hall, accompanied the exhibition.
This exhibition was organized by Curator of the New York State Museum in Albany Peter Gordon.
Exhibition Sponsors

This exhibition was sponsored by American Express Company.