Voices in Contemporary Art: B. Ingrid Olson in Conversation with Holly E. Hughes
Thursday, May 17, 2018
6:30 pm EDT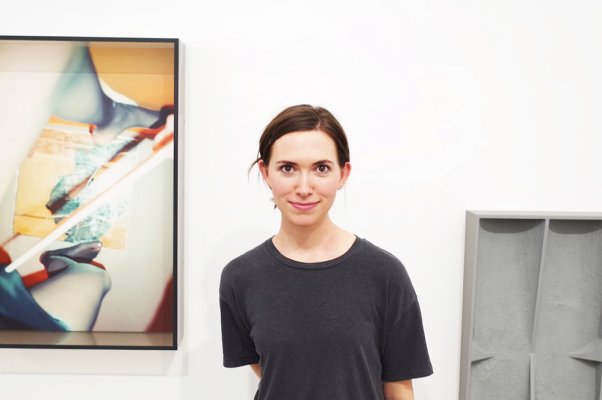 FREE
Auditorium
On the occasion of her first solo museum exhibition, B. Ingrid Olson: Forehead and Brain, the Chicago-based artist will discuss her practice with Godin-Spaulding Curator & Curator for the Collection Holly E. Hughes.
Learn more about the Voices in Contemporary Art Lecture Series.
About the Artist
B. Ingrid Olson (American, born 1987) creates highly personal photographs and sculptural reliefs that push back against traditional modes of artmaking. Within the confines of her studio, she records her body as it shifts and relates to its surroundings. The results of this dynamic process are multidimensional objects that capture the world as seen through the eyes of an artist. For her first solo museum exhibition, Olson will take over the Albright-Knox's Gallery for Small Sculpture by creating a site-specific installation that uniquely engages the physical setting and its existing alcoves and cases.
Recent solo and two-person exhibitions of Olson's work include KLEIN/OLSON, The Renaissance Society, Chicago (2017); double-ended arrow, Simone Subal Gallery, New York (2015); and The vases my monitors their frames, Basement Roma, Rome (2014). Select group exhibitions include Picture Fiction: Kenneth Josephson and Contemporary Photography, Museum of Contemporary Art, Chicago (opening April 2018); Being: New Photography 2018, The Museum of Modern Art, New York (opening March 2018); The problem with having a body / is that it always needs to be somewhere, The Approach, London (2017); Scarlet Street, Lucien Terras, New York (2016); Background/Foreground, Galerie Nordenhake, Stockholm (2016); Synecdoche, Jessica Silverman Gallery, San Francisco (2015); and Dreams That Money Can't Buy, MAXXI Museo nazionale delle arti del XXI secolo, Rome (2014). Olson received a BFA from The School of the Art Institute of Chicago in 2010. She currently lives and works in Chicago.
Program Sponsors

Voices in Contemporary Art: B. Ingrid Olson in Conversation with Holly E. Hughes is made possible with support from The Phyllis L. Goldman Memorial Endowment Fund.

The Albright-Knox Art Gallery's exhibition program is generously supported by The Seymour H. Knox Foundation, Inc.