Lipsey Summer Jazz at the AKG: Singer/Saxophonist Camille Thurman with George Caldwell and Friends
Sunday, July 30, 2023
2 pm EDT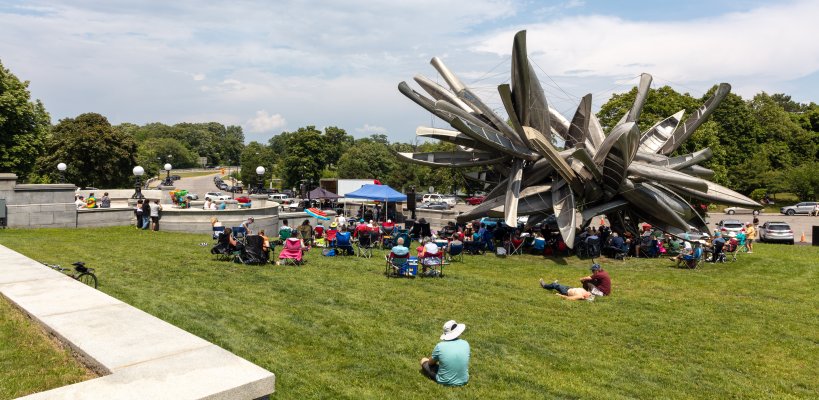 FREE
Delaware Stairs
The Lipsey Summer Jazz at the AKG concerts take place on the museum's Delaware Stairs overlooking Hoyt Lake. Admission is free. Parking is available on the roads surrounding the Buffalo AKG. Please take care to adhere to all parking regulations. 
A selection of food and beverages from Cornelia is available for sale on our new Patio during all Lipsey Summer Jazz concerts.
In case of inclement weather, the performance will be moved indoors to the Stanford and Judith Lipsey Auditorium. Admission is free; however, no food or beverages are allowed. The Auditorium, which is accessible from the Ralph C. Wilson, Jr. Town Square in the Knox Building, holds 400 people and seating is available on a first-come, first-served basis.
Please check the website and social media channels on Sunday morning for updates.
Camille Thurman is an American jazz musician, composer, and member of the Jazz at Lincoln Center Orchestra. Her first two albums, released by Chesky Records in 2018 and 2017, peaked at #3 and #25 respectively on the Billboard jazz albums chart.
Buffalo pianist George Caldwell studied at Memphis State University and Oberlin Conservatory of Music. He was awarded a Ralph Bunche Fellowship for his academic work at Rutgers University and has since garnered additional prestigious awards throughout his career. After a brief stint with Clifford Jordan, Caldwell followed Mulgrew Miller as the piano chair with the Duke Ellington Orchestra. He then spent seven years with the Count Basie Orchestra under the direction of Frank Foster. Some of the many great artists with whom he has shared the bandstand include Dizzy Gillespie, Cab Calloway, Frank Wess, Clark Terry, Quincy Jones, Joe Williams, George Benson, Kenny Garrett, Art Blakey, Savion Glover, Lou Rawls, Lionel Hampton, George Coleman, Louis Smith, Joe Newman, Roy Hargrove, Bobby McFerrin, Max Roach, and Jon Faddis.
SPONSOR

Lipsey Summer Jazz at the AKG is presented by The Stanford and Judith Lipsey Foundation.