Lipsey Summer Jazz at the AKG: Singer Heather Bambrick with Trumpeter Chase Sanborn
Sunday, August 6, 2023
2 pm EDT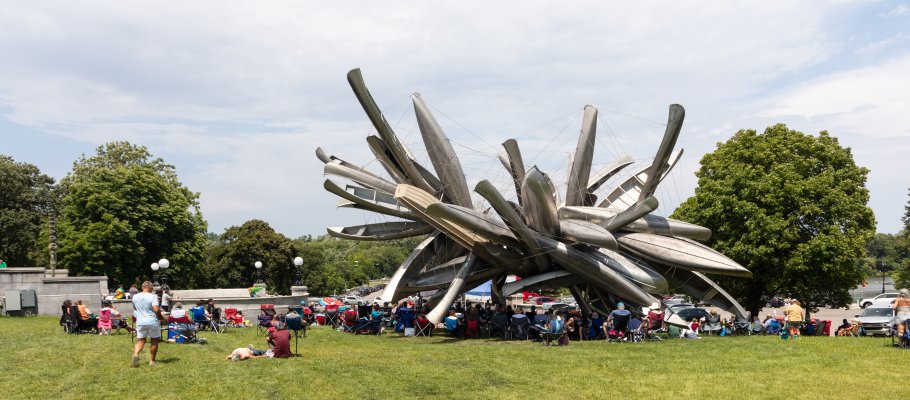 FREE
Delaware Stairs
The Lipsey Summer Jazz at the AKG concerts take place on the museum's Delaware Stairs overlooking Hoyt Lake. Admission is free. Parking is available on the roads surrounding the Buffalo AKG. Please take care to adhere to all parking regulations. 
A selection of food and beverages from Cornelia is available for sale on our new Patio during all Lipsey Summer Jazz concerts.
In case of inclement weather, the performance will be moved indoors to the Stanford and Judith Lipsey Auditorium. Admission is free; however, no food or beverages are allowed. The Auditorium, which is accessible from the Ralph C. Wilson, Jr. Town Square in the Knox Building, holds 400 people and seating is available on a first-come, first-served basis.
Please check the website and social media channels on Sunday morning for updates.
---
JUNO Award–nominated vocalist Heather Bambrick prides herself on being an entertainer through and through. From her skillful, effortless interaction with audiences to the variety and breadth of her material, Bambrick performs with the goal of leaving audiences feeling better after her shows than before they arrived. This is why her concerts have been described as what happens when "Ella Fitzgerald meets Carol Burnett at a Newfoundland kitchen party." 
It's not only audiences who appreciate Bambrick's talent. Critics and industry professionals place Heather on the top rung of the musical ladder. "Heather hits every right note," says Mark Rheume of CBC Radio. WholeNote Magazine calls her "one of the finest jazz singers in this country," and All About Jazz says her voice is a "paragon of clarity" and that "she's the real deal in every way."
As one of Canada's top jazz vocalists, Bambrickhas collaborated with Phil Nimmons, Fred Hersch, Gene DiNovi, Guido Basso, Ann Hampton Callaway, Carol Welsman, Jackie Richardson, Ian Shaw, and the late Rob McConnell and Peter Appleyard. She's a founding member of vocal ensembles the Beehive Singers andBroadswayand has appeared as a guest performer with numerous jazz ensembles as well as with the Toronto Symphony Orchestra, the Newfoundland Symphony Orchestra, the Hamilton Philharmonic Orchestra, and the Windsor Symphony Orchestra.
Jazz trumpeter Chase Sanborn was born and raised on the outskirts of New York City. He attended Berklee College of Music in Boston and began his professional playing career in San Francisco. An early career highlight was a year spent touring North America and Europe with Ray Charles.
As a commercial session player, Chase has spent the bulk of his career working in the recording studios, theaters, and jazz clubs of Toronto. He has appeared as a featured soloist with a host of big bands, including Rob McConnell's Boss Brass and the Dave McMurdo Jazz Orchestra, and he has released five albums as a small group leader. He can often be found these days working with vocalist extraordinaire Heather Bambrick.
SPONSOR

Lipsey Summer Jazz at the AKG is presented by The Stanford and Judith Lipsey Foundation.