Gala - SOLD OUT
Saturday, June 10, 2023
6 pm - 12 am EDT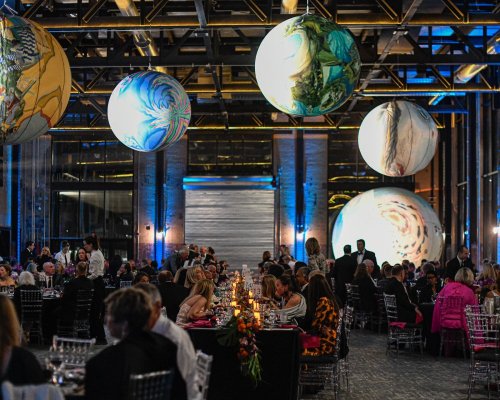 Presented By: 


The Inaugural Season offers a singular opportunity to introduce the Buffalo AKG Art Museum to a new generation. Sponsors at each level will underwrite the artistic activation of each new and refreshed space, including the exhibition of never-before-seen works by contemporary artists alongside beloved collection masterpieces. In appreciation, patrons will be our guests at the first gala on the Buffalo AKG's campus—a landmark celebration in the 160-year history of this museum.
  
Saturday, June 10, 2023
6 pm - Cocktails, Seymour H. Knox Building

8 pm - Seated Dinner, Robert and Elisabeth Wilmers and Jeffrey E. Gundlach Buildings

10 pm - Sweets, Libations, and Dancing, Seymour H. Knox Building

Valet Parking provided by West Herr Automotive Group available at the Seymour H. Knox Building

Black Tie Attire

Champagne and wine generously provided by M.S. Walker and Adrian Chalk Selections
While tickets to the gala are sold out, you can still support the Inaugural Season with the benefit of attending pARTy, celebrating art, artists, and the greater art world on Saturday, September 9, 2023. To learn more, please contact Katie Homer, Manager of Philanthropy, at khomer@buffaloakg.org or 585.746.6937 (mobile).
---
Inaugural Season Chairpersons
Jeffrey and Barbara Gundlach
Alice and Jeremy Jacobs Jr.
Roberta and Michael Joseph
Sonja and Janne Sirén
Gala Committee
Ann Bonte and Brent Baird
Barbara T. Baker
Jennifer and Carl Teo Balbach
Charles and Penny Banta
Robert Bojdak and Sarah Williams
Ann Bonte and Brent Baird
Helen and Andy Cappuccino
Cynthia and Frank Ciminelli
Alison and James Derrick
Carl Gustaf Ehrnrooth and Maire Gullichsen-Ehrnrooth
Kate and Steve Foley
Cathy and Robert Gatewood
Sally and Robert Gioia
Michelle and Christopher Glynn
Sandy and Drew Gundlach
Mary Jo and Peter Hunt
Molly and Charles Lambros
Brooke and Tim Leboeuf
Eunice and A. Norman Lewin
Victoria and James Newman
Lisa and Ted Pierce
Rachelle and Kevin Robinson
Christine Sabuda
Amy and Harris Schwalb
Rafaela Seppälä
Rachel and Scott Stenclik
Nicole and Steve Swift
Virginia Wettlaufer and Walter Tomenson
Debra Williams and Albert G. McDaniel, Jr.
Heather and Jon Williams
Sponsors of the Inaugural Season
The Buffalo AKG Art Museum is grateful to the generous supporters of the Inaugural Season.

Anonymous
Advantage Technology Integration
Aleron
Monica Angle and Sam Magavern
Arc Building Partners / Frank and Cynthia Ciminelli
Abraham Axler and Jenna Rich
Susan O'Connor Baird and Bruce C. Baird
Barbara T. Baker
Charles Balbach
Bank of America
Mr. and Mrs. Charles W. Banta
Barrantys LLC
The Blum Family
Robert Bojdak and Sarah Williams
Elizabeth Bojdak and Christina Bojdak
Ann Bonte and Brent Baird
David and Jessica Brason and Family
Lise Buyer
The Cameron and Jane Baird Foundation
The Helen and Andy Cappuccino Family
Doug and Maureen Cohn
Jan Petter Collier
Michael Culeton and Scott Krajeski
Curbell, Inc.
John and Carolyn Darby
Delaware North and the Jacobs Family
Alison and James Derrick
Pamela Dinsmore and Robert Desjardins
Carl Gustaf and Maire Ehrnrooth
Susanne and Johan Ericsson
Jan Fazer and Laura Aarnio
Chris and Jennifer Feeney
Council Member Joel Feroleto
Catherine and Stephen Foley
James Fronk
Kristine and Thor Furuholmen
Cathy and Robert Gatewood
Gilbane Building Company
Robert and Sally Gioia
Michael and Abigail Gregory Foundation / The 716 Foundation
Barbara and Jeffrey Gundlach
Roscoe C. Henderson III
David and Eva Herer
Highmark Blue Cross Blue Shield
The Hunt Charitable Foundation and Hunt Real Estate Corporation
Martha and Tom Hyde
Reynir and Ingrid Indahl
Alice and Jeremy Jacobs Jr.
James Howell Foundation, Inc.
Khurram Jamil
Dillon Joseph
Roberta S. and Michael L. Joseph
David and Shelley Kimelberg
Björn and Helena König
Charles and Molly Lambros
Erik Langaker and Clementine Munch-Thore
Sharon C. Levite
Dr. Norman Lewin and Eunice Lewin
Life Storage
Camilla and John Lindfors
Jody and Gerald Lippes
M&T Bank
Bill and Linda Maggio
David and Allyson McNamara
Brendan and Michele Mehaffy
Maid of the Mist Corporation
M.S. Walker / Adrian Chalk Selections
Victoria and James Newman
NorthCape Wealth Management
Jack and Marina O'Donnell
Hal D. Payne and Sandy White
Rachel and Peter Petrella
Pierce Family Foundation
Revelas Family in Memory of Catherine Revelas
Anne and Philipp Rimmler
Rivalry Projects
Kevin and Rachelle Robinson through the Nicholas D. Patterson Perpetual Fund
Joshua Robinson and Laura Dalton
Joan Lyke Roebuck
Deborah Russell and Peter Jones
Sanderson Wealth Management, LLC
Sandhill Investment Management
Craig and Susan Schreiber
Amy and Harris Schwalb
Paxton Sheldahl and Silvia Illia-Sheldahl
Rafaela Seppälä
The Seymour H. Knox Foundation
Christian and Theresa Sinding
Jane and Lars Soderberg
Christine Standish and Christopher Wilk
Nicole and Steve Swift
Symphony Real Estate
Anna and Antonio Valverde
Viet-Jacobsen Family
The Wahlroos Family
West Herr Automotive Group
Virginia Wettlaufer and Walter S. Tomenson, III
Francis and Marie Williams and the Kimmins Foundation
Heather and Jon M. Williams and the OSC Charitable Foundation
The Zakarian Family and Debra Williams and Albert Gary McDaniel, Jr. in Honor of Heather Williams
Mrs. Ralph C. Wilson, Jr.
The Zemsky Family Foundation