Behind the Scenes with the Albright-Knox Public Art Initiative: A Preview of Swoon at Albright-Knox Northland
By Curator of Public Art Aaron Ott
Thursday, July 16, 2020
12 pm - 1 pm EDT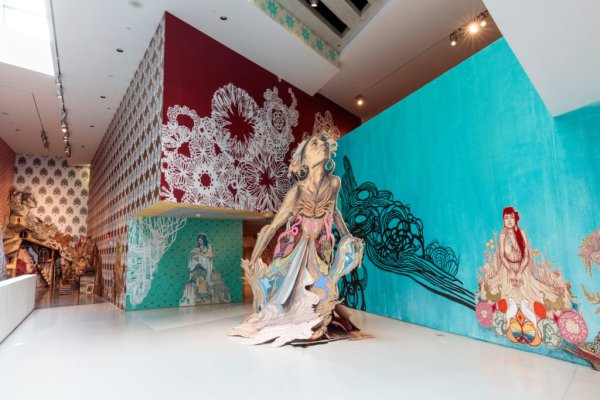 FREE for members
Virtual Event
Join Curator of Public Art Aaron Ott for a member-exclusive series of talks about the latest projects with the Albright-Knox's Public Art Initiative. This second talk in the series will preview Swoon: Seven Contemplations at Albright-Knox Northland.
Swoon, who emerged from the street scene in the early 2000s to establish herself as one of the most thoughtful and thought-provoking artists working today, will be the next featured artist at Albright-Knox Northland. Seven Contemplations, opening September 26, 2020, will feature several iconic works from Swoon's career and will include such wide-ranging themes as meditations on the primordial self, birth and death, fear and suffering, transformation and healing, grace and forgiveness. Swoon's work is beautiful, intricate, and dense, but often deals with challenging themes of healing from trauma. In this conversation, Ott will address the thematic development of the exhibition and the relevance of the artist's practice to timely topics such as addiction, sickness, and fractious community relationships.
Registration
This member-exclusive series is free for Albright-Knox members. Register online using the links below. Please register for each of the three lectures individually if you would like to attend the entire series. You will receive an email reminder the day of the lecture with directions for joining the webinar. Please contact membership@albrightknox.org with any questions or for assistance.
Register Online for Lecture 1 (July 9)
Register Online for Lecture 2 (July 16)
Register Online for Lecture 3 (July 23)
About the Series
Join Curator of Public Art Aaron Ott for a series of talks about the latest projects with the Albright-Knox's Public Art Initiative. The goal of the Initiative is to create spaces of dialogue where diverse communities have the ability to socially engage with, actively respond to, and cooperatively produce great public art that is capable of empowering individuals, creating stronger neighborhoods, and establishing Western New York as a critical cultural center. Learn More
Initiative Sponsors

The Public Art Initiative was established and is supported by leadership funding from the County of Erie and the City of Buffalo.
Exhibition Sponsors

Swoon: Seven Contemplations was made possible through the generosity of Jock and Betsy Mitchell.

Community Spirit Programming is made possible by an anonymous donor in honor of those who have been touched by addiction and in memory of those who have died from the disease.

Additional support provided by Sarah M. Fallon and Dr. John R. Fudyma, C-2 Paint, and Red Disk.

The Albright-Knox's exhibition program is generously supported by The Seymour H. Knox Foundation, Inc.