ARTiFACTS: Play to Win with the Albright-Knox!
Thursday, March 31, 2022
6 pm EDT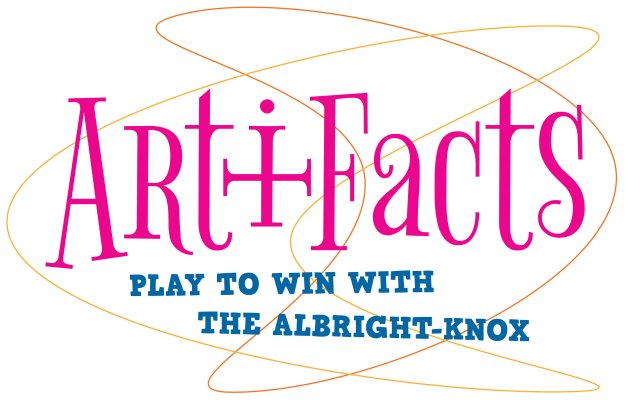 Co-hosted by Lauren Hall of WGRZ and Adriana Viverette, "The Go Getta" of 93.7 WBLK
Chaired by Patti and Thurman Thomas
$100+
Seneca One
This event is sold out!
Join the Albright-Knox at Buffalo's tallest building to compete in a museum-designed gameshow—this time with more chances to win*! Brush up on your trivia and put your knowledge to the test with friends while enjoying delights from BriteSmith Brewing and The Grazing Forest. Whether you are a Buffalo Bills buff, a public art urban explorer, or an art history enthusiast, this game is for you. Prizes will include limited-edition prints from blockbuster artists like Beverly Pepper and Julian Stanczak; a suite of merchandise from Eat Off Art, the creative agency of Alexa and Edreys Wajed; prints and merchandise from The Ghost; a jersey signed by Thurman Thomas; gift cards from your favorite local restaurants; and more!
6–8 pm Trivia, Atrium
8–10 pm After Party, Lobby Bar
Valet parking available.
Your generosity to this vital fundraiser supports the exhibition and education programs of the Albright-Knox as it prepares to become the Buffalo AKG Art Museum.
*Restrictions apply
---
Tickets + Sponsorships
$100, Individual Ticket
Includes open bar and food during the run of the game. Sold Out!
$1,000, Table
Invite your colleagues or friends to join in on the fun. Includes open bar and food for ten during the run of the game. Sold Out!
$2,500, Category Sponsor
Highlight your company or brand by sponsoring one of the gameshow categories. Includes a complimentary table of 10 and additional program recognition. Sold Out!
$5,000, Presenting Sponsor
Highlight your company or brand by sponsoring the entire event. Includes a complimentary table of 10, program recognition, and logo recognition on an invitation list to 1,000 Albright-Knox members. Sold Out!
Our team is looking forward to working with you to customize any of these benefits to suit your needs. For more information regarding sponsorship opportunities, please contact Katie Homer at khomer@albrightknox.org or 585.746.6937 or Kate Peck at kpeck@albrightknox.org or 716.472.7381.
For questions regarding event logistics or program, please contact Tori Claflin at vclaflin@albrightknox.org or 585.507.9456 or Beth Getman at egetman@albrightknox.org or 716.830.6878.
Category Sponsors

Buffalo Bills / Pegula Sports and Entertainment
Dôme Art Advisory
Gilbane Building Company
The OSC Charitable Foundation
Sandhill Investment Management
Table Hosts

Ryan Arthurs and Christopher Walsh
BankOnBuffalo
Barrantys LLC
Carly and Joe Battin
Katie Campos and Erin Chapman
Circuit Clinical
Ciminelli Real Estate Corporation
Team Donnelly, Huber, and Petrella
Allison Drake and Sherry Arndt
Sarah and Daniel Fabrizio
Ryan E. Flore, Financial Consultant
Molly and Charles Lambros
Thomas and Emily Leed
Jamie and Clayton Perry
Pierce Family Charitable Foundation
Caitlin Corr Reilly and Craig Reilly
Misha and Jeff Russo
Thurman Thomas Family Foundation
Mrs. Ralph C. Wilson, Jr.
Special Gifts and Arrangements

Sherry Arndt, Artist
Balloon Masters
Bison Botanics
Bocce Club Pizza
BriteSmith Brewing
BuffaloveNotes – The Donnelly Family
Drs. Helen and Andy Cappuccino
CJ Sound
Curbell, Inc.
Eat Off Art – Alexa and Edreys Wajed
Flint Kitchen + Bar
Ghost Room Art
The Grazing Forest – Shain Toth
ID Pilates
Oxford Pennant
The Place
Thurman Thomas Family Foundation
Committee

Ryan Arthurs and Christopher Walsh
Jesse Ball
Jule and Will Basil
Carly Battin
Katie Campos and Erin Chapman
David Chevrestt
Emily Donnelly
Theresa Donnelly
Allison Drake and Anthony Lelito
Lauren Hall
Darnell Haywood
Sean Heidinger
Kate Huber
Danielle and Alex Keogan
Molly and Charles Lambros
Brooke Leboeuf
Amanda Licata
Leigh and Christian Martinez
Francesca Mesiah
Rachel Petrella
Caroline Pierce
Caitlin Corr Reilly and Craig Reilly
Rachelle and Kevin Robinson
Misha Russo
Kyria Stephens
Nicole and Steve Swift
Jared Threat
Adriana Viverette
Heather Williams
Mrs. Ralph C. Wilson, Jr.