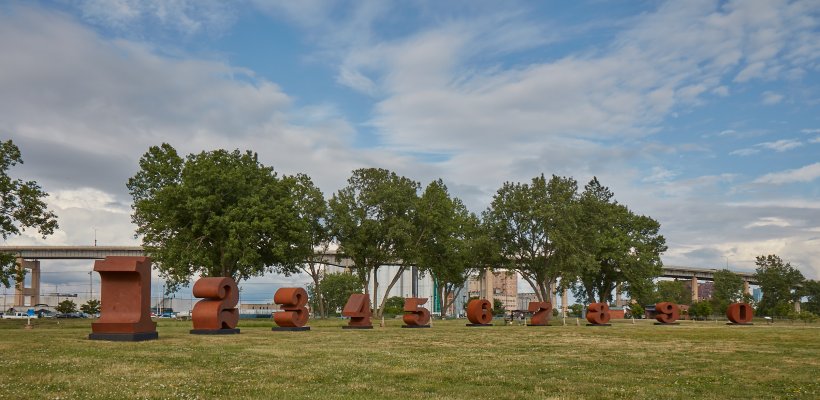 2018–2019
Wilkeson Pointe
In conjunction with the exhibition Robert Indiana: A Sculpture Retrospective (on view at the Albright-Knox from June 16 to September 23, 2018), a set of Robert Indiana's ONE through ZERO (The Ten Numbers), 1980–2001, was installed at Wilkeson Pointe on Buffalo's Outer Harbor through September 2019. 
Along with words, most notably "love," numbers are one of the most frequently reoccurring motifs in the art of Robert Indiana. According to the artist, his fascination with numbers stemmed from an itinerant childhood in which he lived in twenty-one houses by the time he was seventeen, and he subsequently developed a complex system linking the numbers one through nine and zero to human life stages. Because he associated one with infancy and zero with death, the artist conceived of all of his number series as running one through zero.
The form of these particular numbers was inspired by an old printer's calendar that Indiana discovered in his studio—a former industrial property—in 1961. He went on to refine the symbols in a number of painting and print series during the 1960s and 1970s before exploring sculptural variations beginning in 1980. This set was produced in Cor-Ten steel, a material specifically designed to weather the elements, developing a rich red-brown patina over time.
The museum's exhibition program is generously supported by The Seymour H. Knox Foundation, Inc.
Initiative Sponsors

The Public Art Initiative was established and is supported by leadership funding from the County of Erie and the City of Buffalo.