On June 29, 2006, artist Jim Hodges was present at the museum for the installation of his sculpture look and see, 2005, in the Sculpture Garden outside the 1962 Building. Hodges's look and see is a massive nine-ton sculpture that creates illusions of positive and negative space through its black-and-white painted surface, cut-outs, and camouflage patterns.
To get the work into the Sculpture Garden, a crane lifted it over the museum's entrance and lowered it in place. It creates its own environment in the Sculpture Garden, as viewers can walk around the curved work, peer through sections, and interact with the reflections on its surface and the shadows it casts.
The work still resides in the Sculpture Garden and is on view for all museum visitors to explore.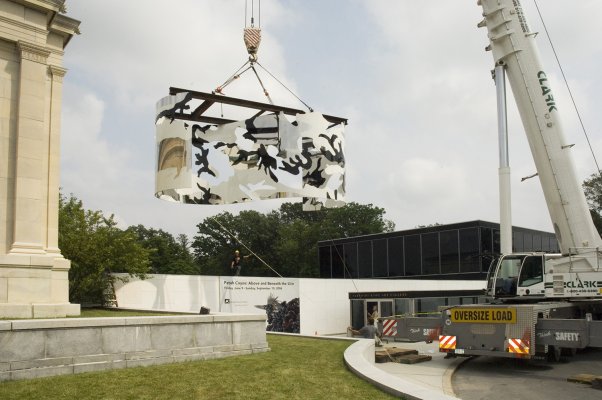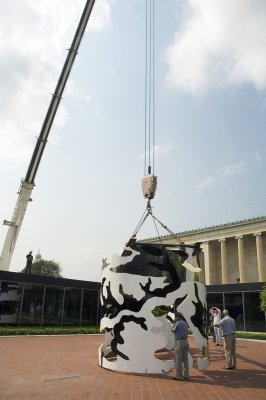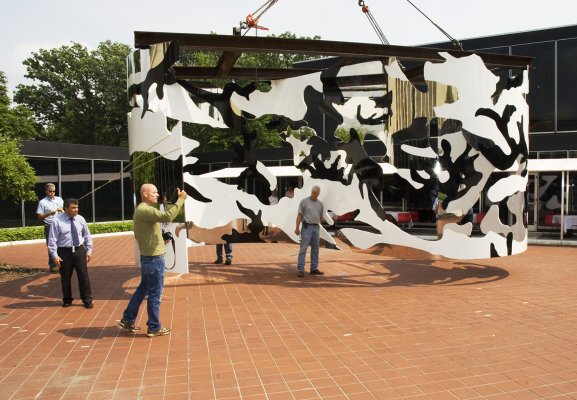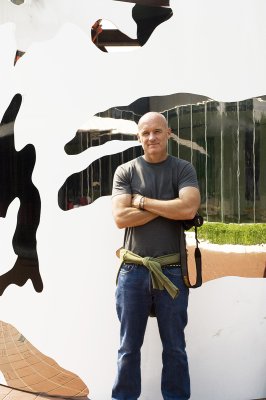 Artwork: Jim Hodges (American, born 1957). look and see, 2005. Enamel on stainless steel, 300 x 138 x 144 inches (762 x 350.5 x 365.8 cm). Collection Albright-Knox Art Gallery, Buffalo, New York; Sarah Norton Goodyear, George B. and Jenny R. Mathews and Charles Clifton Funds,  2006 (2006:15). © 2005 Jim Hodges.