In the early 1990s, Robert Indiana began making what he referred to as bronze "translations"—or casts—of selected sculptures, which are among the most complex bronze works of the contemporary era. He sought to achieve a remarkable degree of verisimilitude in each painted bronze, translating all the sculpture's various elements from their original materials into the long-lasting metal.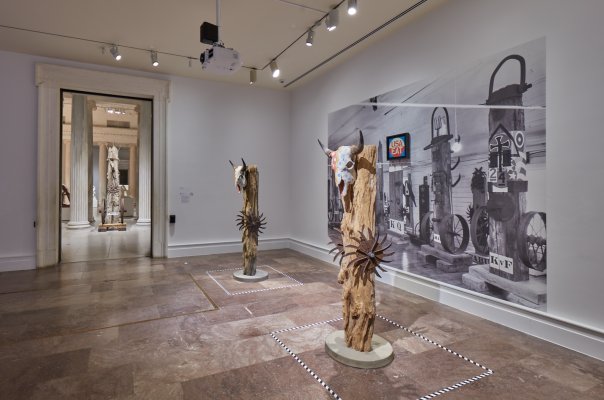 USA appears in Robert Indiana: A Sculpture Retrospective in both its original form and its bronze "translation." Throughout his career, Indiana identified himself as an American artist, and he emphatically embraced the roadside folk art tradition of the American Southwest in USA. Earlier in the 1960s and '70s, Indiana used "USA" as a motif in several paintings—including USA/EAT, on the wall behind these two sculptures—pairing it with other words and motifs.
Robert Indiana: A Sculpture Retrospective is on view through September 23.