From April 5 to 12, artist Htein Lin will visit the Albright-Knox in conjunction with the installation of his multimedia project A Show of Hands at the museum.
While in Buffalo, the artist will run a free drop-in art activity on Friday, April 5, from 5 to 7 pm, as part of M&T FIRST FRIDAYS @ THE GALLERY; give a free gallery talk on Sunday, April 7, at 2:30 pm; cast the hands of former Burmese political prisoners from across the region as part of his continuing work on A Show of Hands, also on April 7; and present a documentary film about his work, U Htein Lin—Mr. Bright and Shiny, with filmmaker Vanessa Smith on Friday, April 12, at 7:15 pm. Begun in 2013, A Show of Hands includes hundreds of plaster sculptures cast from the hands of former political prisoners, each accompanied by a card documenting when and where the individual was imprisoned.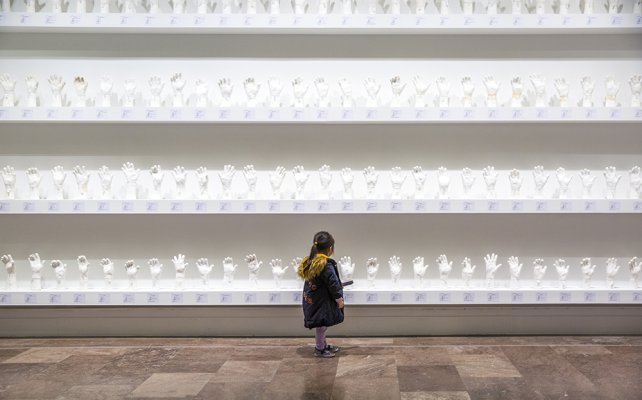 Lin himself was once one of these prisoners. In 1998, he was accused of opposition activity by Myanmar's authoritarian government, arrested, and detained. During his nearly seven-year-long incarceration, he made art using the materials available to him, including cotton prison uniforms and cigarette lighters, and also organized performances with his fellow prisoners.
A Show of Hands offered Lin a way to continue and expand his art of social engagement after his release and return to Myanmar following a period of exile in London. Ultimately, the work is a kind of performance, in which volunteers are asked to "show their hands" and identify themselves as part of a community of survivors of human rights abuses. The installation of these hands transforms white plaster—long used to make casts of classical sculptures—into a material that helps make these important stories visible.