Aitina Fareed-Cooke is one of the most dynamic creators that you will ever come across. A musician, a photographer, a videographer, and a poet, Fareed-Cooke recently added the title of curator to her resume—at least officially—as one half of the guest curatorial duo behind the special exhibition In These Truths, which closed its run at Albright-Knox Northland on June 5, 2022. With fellow guest curator Edreys Wajed and Curator of Public Art Aaron Ott, Fareed-Cooke created a moving and provocative exhibition of work by twenty-three living Black artists. We caught up with her to hear her reflection on In These Truths and the exciting new project she has recently unveiled: Tales from the Porch. 
---
AKG: So June 5 is a few months in the rearview mirror. Let's start with what was it like taking on the role of a curator?
Aitina Fareed-Cooke: It was amazing. Stepping into that role was amazing. I wasn't even sure how it would impact my life.
As a creative and as an artist, you're moving, you're moving, you're moving, you're trying to create spaces, you're trying to create work that's coming from your heart and your soul. And sometimes when you're doing your thing, you're not always conscious of the moment that you're in.
And so when we were planning and prepping, we were just on go mode. But then stepping back and looking at what just happened. . . is phenomenal. I'm grateful. We made a mark that can never be erased.
What stands out the most to me was seeing young people that look like me walk into the space and realize, "Oh, all of these artists that did this work look like me, probably come from the places that I come from." And then, "Oh, the people who chose the work, live here." There's no words to describe it.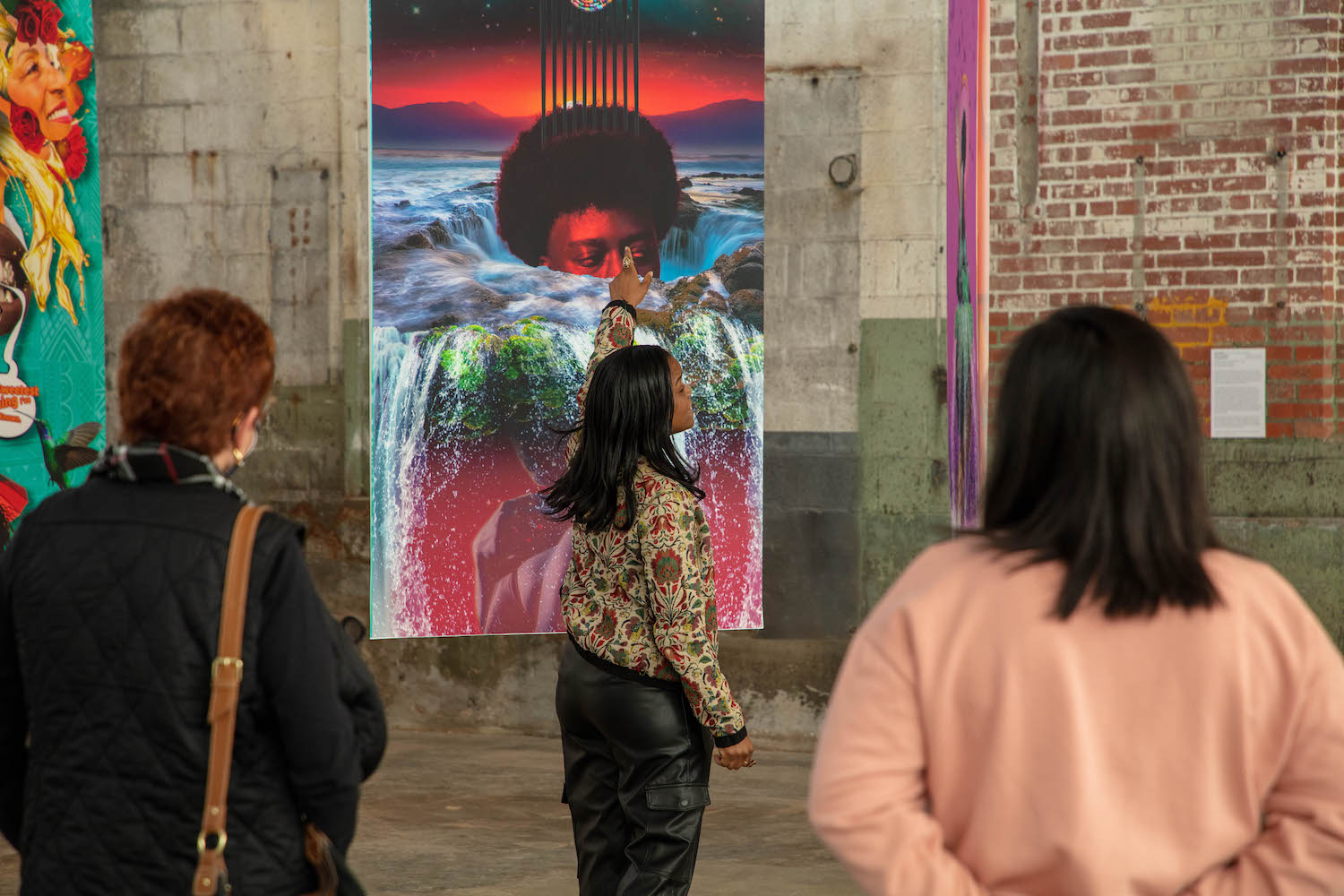 AKG: One of those young people was your daughter. There's an amazing photo of her seeing your name on the sign outside of Northland. Could you talk a little about what it was like personally living through being a curator and having your name on the marquee, so to speak?
AFC: I really work hard to be in the moment with my children. It's a surreal thing when I look at my children, because of where I come from. I didn't have my biological mother, I didn't have the one who ushered me into this world. I had my adoptive mother, and it was great, but it's something about that connection with the children that you birth, and so when I look at my son, when I look at my daughter, I'm filled with love.
So when my daughter saw my name and recognized my name, and she pointed to it and smiled, and I can hear the pride in her voice: "That's my mom." And then hearing her walk around the gallery saying, "Mom put this together." Like that is indescribable. I'm grateful to have the opportunity to give that to my children to show them, I get to operate at full capacity in this space, and you can too. I'm here living 100 percent as an artist, but as your mother you get to see me move and shake authentically, being who I am 100 percent.
And then having my (adoptive) mom walk through? There's two ends of the spectrum. My mom is going to be 90 in November. She gets to see this little girl that she chose to take in as a foster child. People—doctors and counselors—told her, are you sure you want to take this on? It was me, my sister, and my brother, and we were rough because of the circumstances we were coming from. They said, "Are you sure?" And she said, "I'm confident I can." Can you imagine taking in children that have rough beginnings, and the trauma and all of these issues that they're dealing with? And you're trying to do the best you can? And my mother was a single mother. She raised us on her own, and she already raised three other children. So then to go through the ups and downs, the trials, the tribulations of terrible behavior, believe it or not—
AKG: Were you a tough kid?
AFC: Oh, I was. I was terrible. You know what, I would say that I was misunderstood, and I didn't understand myself. I was lost, and I was trying to understand what my identity was. And thank goodness for the arts, because I found my identity within that. Thank God for my faith, which means a lot to me. So those things helped me get to where I am. But it took a while.
But from my mother's perspective, I can't imagine what it feels like to watch this child that people tried to tell you not to take on, to flourish into who I am today, and to walk into the space [at Northland]. She's never seen work like that in the spaces in which she moves and shakes on the East Side. . . I can only imagine what that meant to her.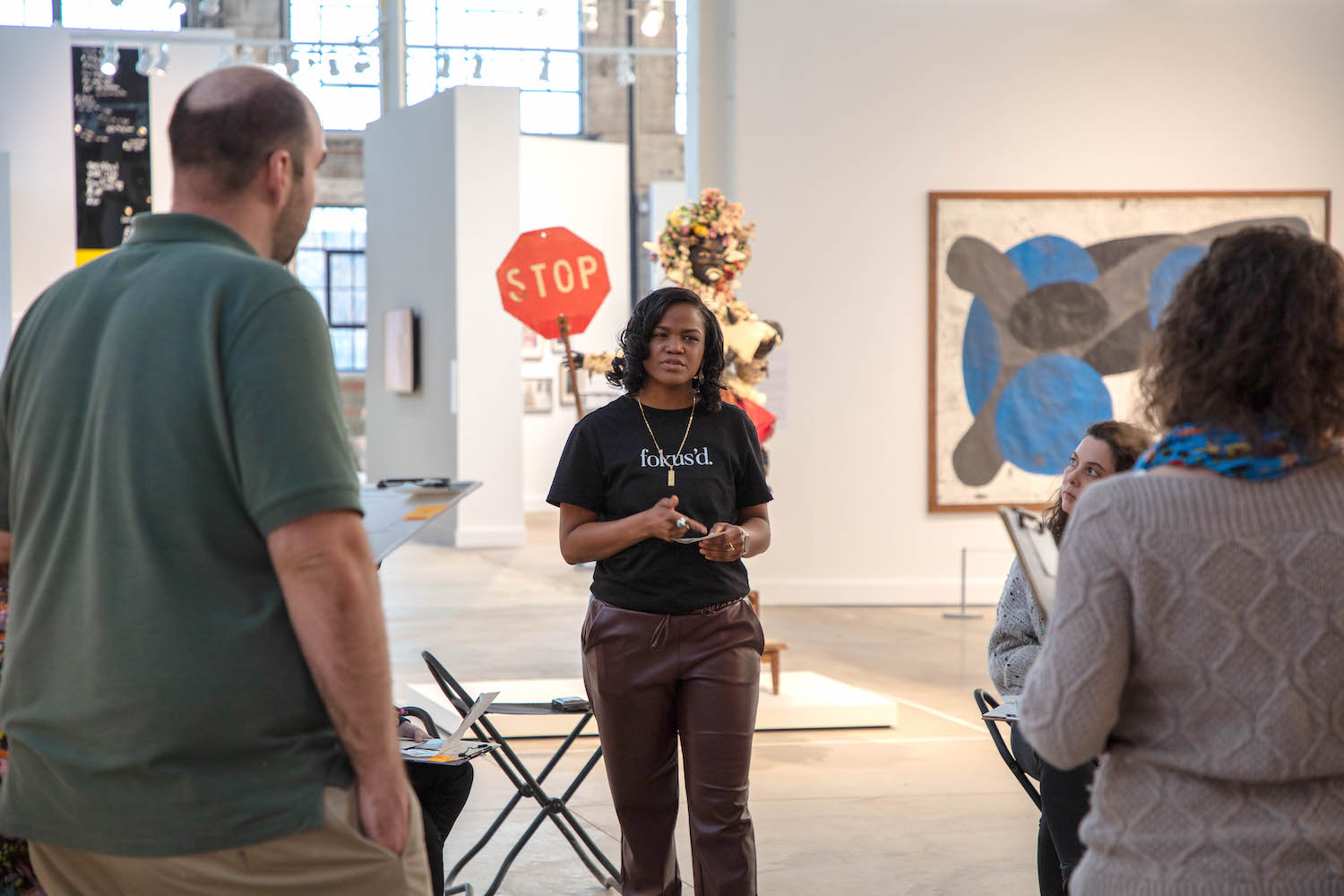 AKG: Given the time that you spent with the exhibition, with people in the space, was there anything that surprised you that you weren't expecting?
AFC: I loved the programming that we rolled out. Being that these are Black artists, we thought it was important to have Black business owners, Black leaders within the community, Black artists come in to continue the conversation. You are allowing the art to live and breathe even beyond living on the walls. Now it's living within the conversations that we're having. We're thinking about the issues and topics that inspire the artists to do what they do.
One thing that warmed my heart was to see so many individuals who would have never stepped foot in the Albright-Knox, because they didn't feel comfortable or didn't feel like it was a space for them—I personally feel like all spaces are ours, you just go and figure it out—but people took the risk, whatever that risk was: the risk of not knowing, the risk of feeling as though maybe they would be met with opposition. Whatever the case, they took the risk to come in. And I'm talking people who come from really tough spaces, and they walked into this space, and they're like, "Oh, man, I'm glad I came here. This is dope."
Shout out to my producer Carolinah Blu. He even said, "I would have never walked into any of these spaces." What's beautiful is he was able to have a program the Sonics of Hip Hop through Zoom, and to be connected with the Albright-Knox—like that shocked them. The people who tuned into that particular workshop would have never tuned into a workshop, probably ever.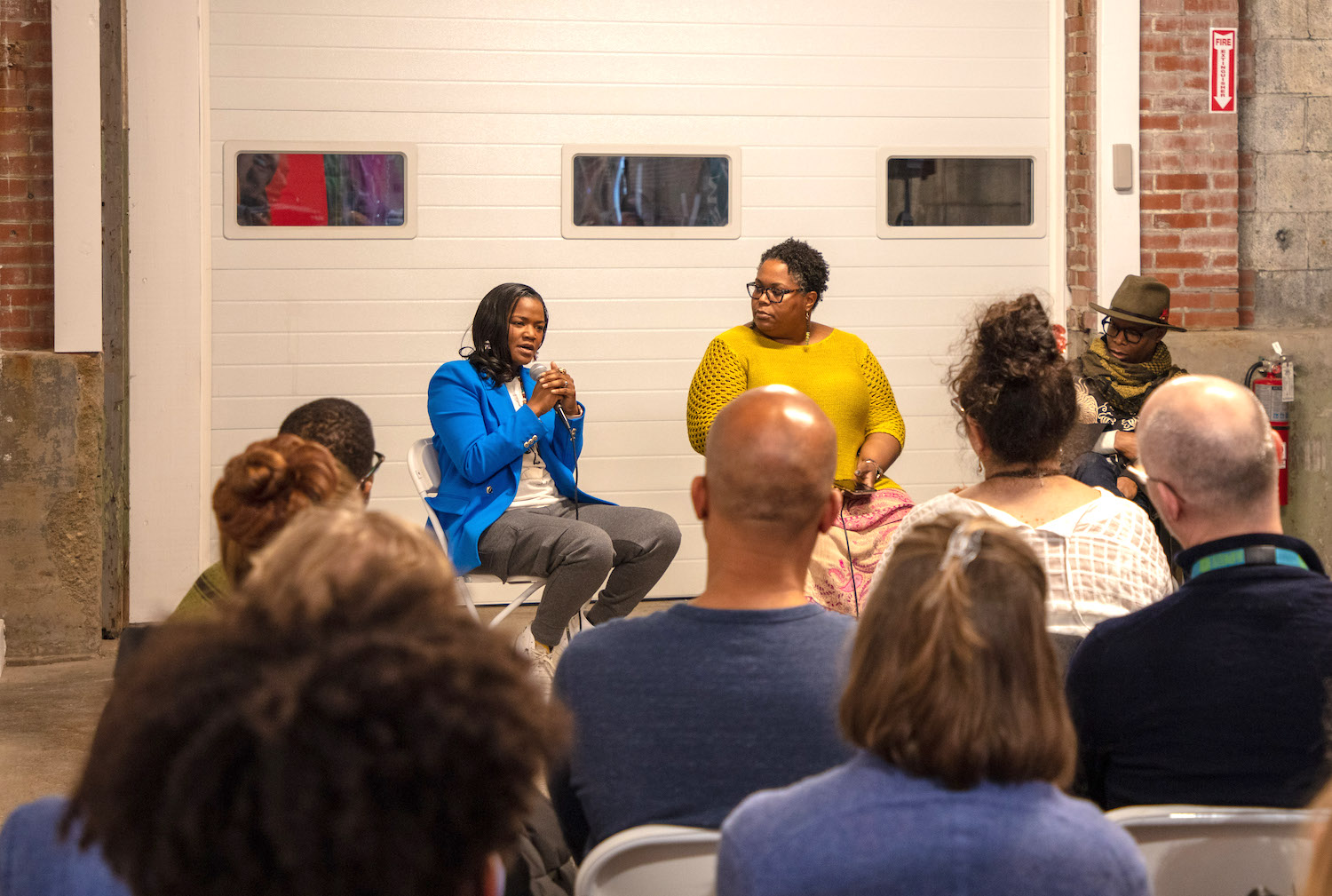 AKG: And probably some longtime members of the museum, who might have been introduced to something new.
ATF: Yes! We celebrated after that. Once that event was done, we literally toasted to it. That was an accomplishment for them.
AKG: Can you tell me about the genesis of Tales from the Porch?
AFC: I'm going to be honest, until I went through the process of curating with Aaron and Edreys, I never realized a curator was what I was. Back in 2019 is when I curated Tales from the Porch for the first time through Buffalo State's Anne Frank Project.
Tales from the Porch was an experiment for myself, honestly, because I wanted to break down stereotypes. I wanted to find out for myself if some of the things that people say about certain sides of our city was true: saying that the South Side is racist, or the East Side is violent, or the West Side is this, the North Side is that. I just wanted to go to the people that live there.
I love street photography, so that was one model. I would just walk up to people on their porches and ask them about the neighborhood: "How do you feel about your neighborhood? How do you feel about the things that are said about your neighborhood?" And I went to the four corners of our city, the north side, south, east, and west, to identify with the individuals that lived in our spaces.
The end result is everybody's human trying to do the best they can, and they're coming with their own perspectives, and it takes the sharing of stories to expand perspectives. I'm going to listen, then I'm going to share my story, and we can find similarities.
The porch is that in-between space, it's not necessarily inside where it's private, but it's also not too open either. It's that space in between, that sacred space that we have, where we feel safe, but we're vulnerable at the same time. And I think that's the storytelling process, because I'm sharing this thing that's private, and me sharing it creates this vulnerability.
As a curator, I felt it was important to capture the essence of the individuals that live within our community, that look like the community, so that they can talk about the work that we're doing, and to capture it through film. But I also thought it was important to collaborate as much as possible with creatives, so filmmakers, musicians, artists, business owners, organizations, whoever, and then of course involving youth is very important to me. And then pulling all of those pieces together in order to showcase this canvas of a community. One canvas, showing that everybody can work together.
AKG: How did this second version of the project come about?
With this second iteration, I wanted to expand on the idea of storytelling. Originally, it was supposed to be me traveling in New York state, because I was able to get a grant through NYSCA. Through our sponsorship with ASI [Arts Services Inc.], I was able to secure a grant to travel and capture stories of Black and minority business owners that were dealing with the issues of the pandemic, and how they were able to get through it or not get through it, and what happened because of it.
Then, when the tragedy at Tops happened, in my heart I wanted to shift the focus solely to Buffalo, because I felt Buffalo needed it, specifically the East Side, because that's where it happened. And so, I started to look into the stories of seven business owners (originally, it was going to be five; thanks to AKG, we were able to increase it to seven), and I wanted to know, What's your story with everything that has happened and is happening right now? What's your porch story? How do you use your "porch" or passion to impact the community? How are you overcoming evil with good?
AKG: As you've worked with people on this project, what have you noticed? How are the people you're interacting with dealing with the tragedy?
AFC: I'm motivated by seeing other people wanting to help. The people whom I worked with on Tales from the Porch, they're motivated by wanting to help other people. The pain, the loss, the mourning turns into this. . . energy. That's a force. It's like this adrenaline that rushes through your being, and you have to push that passion in order to help other people. And that's what they did. That's what everyone did. Tales from the Porch is my response to what happened.
I don't have millions of dollars to give in support of the families. I'm passionate about telling stories, human-first stories. I'm passionate about building community. I'm passionate about working with youth. So I took those tools, and I did everything that I felt I could do to respond to the evil that happened within our community. And I wanted to overcome that evil with good. And so I utilize my tools to showcase the good that's happening. But even before that tragedy happened, this is what we've been doing.
AKG: You always work with young people. You're very conscious about providing opportunities and mentorship to young people. What were you seeing those young people going through while working on this project?
AFC: One of the biggest things that frustrated me during the pandemic is that I felt like young people didn't have a voice. Adults went into this mindset of protection, and I get it, you want to protect, you want to do what's best, you're not sure how to do it. But we began to make decisions for our young people, without necessarily asking them how they felt about what's going on and really listening. So I think that young people felt voiceless. And the young people that I talked to, for them it was like, No one asked us. No one asked us how we felt about being on computers and looking at lessons for hours a day.
So I wanted to find ways for them to have some kind of voice, some kind of empowerment. So I utilized the tools that I know best—photography, film, writing—to give them a voice the way I was given one. After the tragedy that happened at Tops, there was fear. When we did a photography event at Juneteenth, one of the students said, "I'm nervous about going because I don't know what could happen. But I no longer want to stay in the house, I want to get out. I want to push myself." She went, and it was a great time, and she was able to see love and see life. Students are nervous. They're not sure how to deal with what's going on, but being able to utilize the camera and those tools and storytelling gave them something.
---
About Tales from the Porch
Tales from the Porch is a groundbreaking exhibition that amplifies stories told by community members.
The second iteration of Tales from the Porch focused on seven black community leaders impacting the Buffalo, New York, community despite the pandemic and the tragedy that occurred at the Tops Market on May 14, 2022.
This year, the Tales from the Porch project was funded by the New York State Council on the Arts (NYSCA) through Arts Services Inc.'s fiscal sponsorship. This project also included support from the Buffalo AKG Art Museum and the Patreon members of A.I. The Anomaly.
The creative partners for Tales from the Porch include: The Crusaders Marching Unit of Buffalo, NY; The Foundry; Greg Garrett of MUDD Renovations; CEPA Gallery; and Wakanda Alliance; Joshua Cooke; Shannon Mays; Alanda Gethers; Alex Rojé Felix of Earthbound Films; Luqman Muhammad of 22Reform; Carolinah Blu of Bangerhouse Music Group; Stephen Davis of 40k Designs; L. Biz; Lindsay Niccs; Sounds of the Culture; Jillian Hanesworth; Isaac Fareed; MyKiss Washington; and Hannah McAndrew.