Victoria Sambunaris: Taxonomy of a Landscape
Friday, October 21, 2011–Sunday, January 22, 2012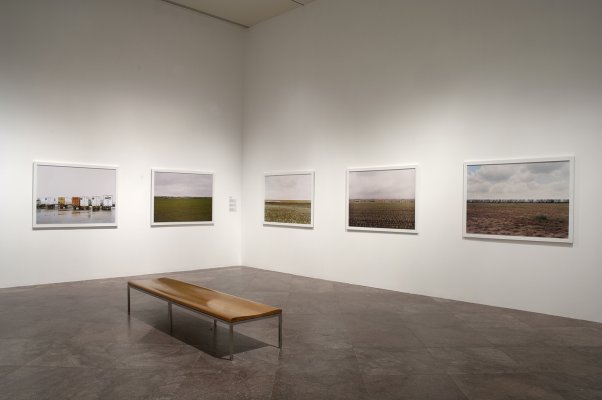 1905 Building
Each year for the previous ten years, Victoria Sambunaris (American, born 1964) set out from her home in New York to cross the United States by car, alone with her camera. Her photographs capture the expansive American landscape and the natural and fabricated adaptations that appear throughout it. In conjunction with the Lannan Foundation in Santa Fe, New Mexico, the Albright-Knox presented a selection of approximately 40 photographs from Sambunaris's body of work, marking the artist's first solo exhibition at a major American museum.
Hauntingly beautiful in their documentation of the declining American terrain, Sambunaris's images celebrate the intersection of civilization, geology, and natural history, featuring trains in Texas and Wyoming, trucks in New Jersey and Wisconsin, the oil pipeline in Alaska, uranium tailings in Utah, and a unique view of Arizona's Petrified Forest. Together, they present a sparse and vast landscape dotted by human intervention that is distinctly American. The exhibition will also include a comprehensive archival installation featuring maps, journals, and additional records of the artist's travels.
Artist's Statement
For most of my photographic life, my interest in the vast transformation of the American landscape has led me to travel extensively in my car for several months per year. Over the last eleven years, I have journeyed to Alaska, venturing 500 miles on a gravel road, crossing the Arctic Circle and the Brooks Range to arrive in the North Slope; I have encircled and penetrated enormous mining operations, mesmerized by the vast cavities in the earth; I have resided on an abandoned air force base on the salt flats of Utah, exploring the industry and history of the area; I have voyaged the I-80 corridor, driving 11,000 miles, striving to grasp the force of our geologic evolution and our place within it. Last year, I surveyed the pervasive Yellowstone hotspot and Snake River Plain, observing evidence of this volatile area and its violent geologic past, and I recently returned after traversing 20,000 miles over an eight-month period along the United States–Mexico border in an attempt to comprehend the essence of the border culture and a landscape divided. My work has taken me on seemingly every road, parkway, thruway, highway, freeway, and turnpike, as I traverse the ever-changing American landscape.
I am equipped with a 5x7 field camera and strive to integrate myself in the locale that I am working in. Upon returning east, the mural-size photographs that I make inspire awe and wonder of a particular terrain and act as a catalyst to an ethical need to penetrate a grander question about landscape and our place within it. My process begins with an unmitigated curiosity inspired by research into industry, culture, history, anthropology, geology, and ecology. I travel with an extensive library of books, maps, and reference material and have amassed an abundance of artifacts that include mineral specimen, journals, video footage, road logs, and oral histories from my journeys.
My motivation to traverse the American landscape is the attempt to reveal the layers of a place. I resist approaching a landscape strictly as an expanse of scenery but view it as an anomaly with an abundance of information to be discovered.
About the Artist
Born in Lancaster, Pennsylvania, in 1964, Victoria Sambunaris documents, through the lens of her camera, the vast terrain of the United States and the impact that humans have had on the natural landscape. Sambunaris received a BA from Mount Vernon College in 1986 and an MFA from Yale University School of Art in 1999. Her work has been widely exhibited in museums and galleries throughout the United States; however, her exhibition at the Albright-Knox marks her first solo museum exhibition. Her work can also be seen in numerous collections throughout the United States, including those of the Lannan Foundation, Santa Fe; Museum of Fine Arts, Houston; The Museum of Modern Art, New York; the National Gallery of Art, Washington, DC; and the San Francisco Museum of Modern Art. Sambunaris has participated in the Ucross Foundation Residency Program in Wyoming (2010), as well as the Center for Land Use Interpretation's Wendover Residence Program in Nevada (2004), and has been awarded a Lannan Foundation Fellowship (2002) and a Rema Hort Mann Foundation Grant (2000). She has held numerous teaching positions, and currently lives and works wherever her intuition takes her.
This exhibition was organized by Christie Mazuera Davis, Program Director, Contemporary Art and Public Programs, Lannan Foundation, and Albright-Knox Curator for the Collection Holly E. Hughes.
Exhibition Sponsors

This exhibition was presented in collaboration with Lannan Foundation, Santa Fe, New Mexico, and supported, in part, by Roberta and Michael Joseph.

Exhibition design by Michael Reynolds. Vinyl printing and installation services provided by SignCrafters.