Hamish Fulton: Selected Walks, 1969–1989
Saturday, January 20, 1990–Sunday, March 11, 1990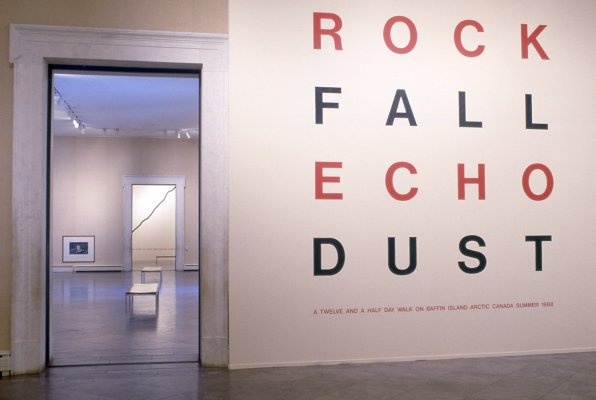 1905 Building
Organized by Chief Curator Michael Auping, this exhibition was the first retrospective of Hamish Fulton's work from the last two decades. The primary element of Fulton's art is the phenomenon of a "journey" and since 1968, his art stemmed from long walks taken in a variety of landscapes. His journeys, which range in duration from one day to several weeks, are represented through the combined media of photography and text.
Fulton distills his journeys into precise images, generally using a large-scale photograph and a brief accompanying text that gives factual information and details of his experience culled from his ongoing diary. Although highly intimate, these walks take place on a McLuhanesque scale. In the past 20 years, Fulton had walked thousands of miles in Nepal, India, Bolivia, Canada, Peru, Iceland, Scotland, Mexico, Australia, France, Italy, and the United States.
After the exhibition at the Albright-Knox, Hamish Fulton: Selected Walks 1969–1989 traveled to the National Gallery of Canada, Ottowa, El Centro Cultural/Arte Contemporaneo, Mexico City, Musée de Grenoble, France, John Weber Gallery, New York, and Galerie Laage-Salomon, Paris.
A limited-edition book designed by the artist, with essays by Auping and David Reason, Professor of Law and Philosophy at the University of Kent, included photographs revealing the artist's poetic nature that was not part of the exhibition.
This exhibition was organized by Chief Curator Michael Auping.
Exhibition Sponsors

This exhibition was made possible, in part, with public funds from the National Endowment for the Arts and the New York State Council on the Arts.