Arshile Gorky: The Breakthrough Years
Tuesday, November 14, 1995–Sunday, December 31, 1995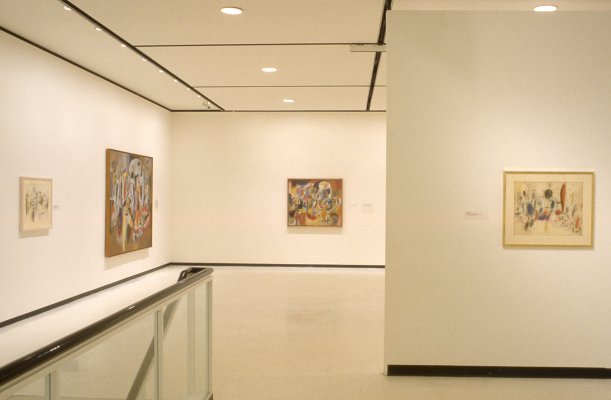 1962 Building
Co-organized by the Albright-Knox and the Modern Art Museum of Fort Worth, The Breakthrough Years celebrated and paid tribute to the late work of one of the most important and influential painters of the abstract expressionist movement, Arshile Gorky. Michael Auping, Chief Curator at the Modern Art Museum, and formerly Chief Curator at the Albright-Knox, organized this showing of Gorky's mature paintings and drawings, which premiered at the National Gallery of Art in Washington, D.C.
The works from the 1940s represent Gorky's mature period and the pinnacle of his artistic expression. The exhibition began with a series of breakthrough paintings and drawings from Gorky's well-known Garden in Sochi (1941–1943) series. Other works in the exhibition included the Tate Modern's Waterfall (1942–1943), How My Mother's Embroidered Apron Unfolds in My Life (1944) from the Seattle Art Museum, and One Year the Milkweed (1944) from the National Gallery of Art. Waterfall and One Year the Milkweed demonstrate how Gorky translated abstracted surrealistic forms into a highly personalized imagery that he described through rich veils of luminous color. The period 1940–1947 was an exceptionally rich period of drawing for the artists, and a selection of 18 drawings tracked Gorky's complex working methods throughout the 1940s.
The exhibition also featured the Albright-Knox's acquisition, Gorky's The Liver is the Cock's Comb, painted in 1944 and widely considered to be his greatest painting. A 188-page, fully illustrated, color catalogue, prepared and edited by the museum and published by the Modern Art Museum with Rizzoli International, accompanied the exhibition.
This exhibition was organized by former Chief Curator Michael Auping.
Exhibition Sponsors

This exhibition and publication was supported by the National Endowment for the Arts and The Henry Luce Foundation, with additional funding from the T.J. Brown and C.A. Lupton Foundation, Fort Worth. It was made possible, in Buffalo, through the generous support of Chemical Bank.