Join the AK Teens: Museum Ambassadors for an Evening of commUNITY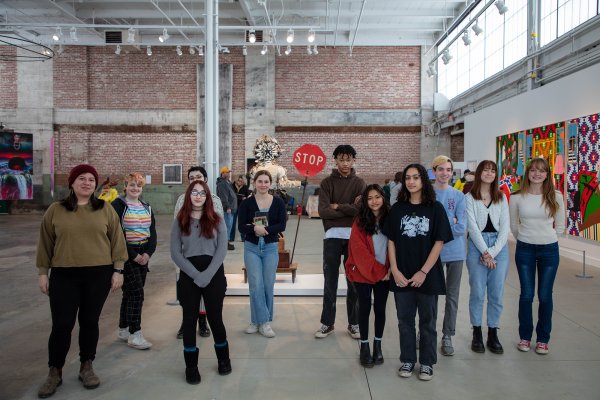 Buffalo, NY – On Friday, June 3, join the AK Teens: Museum Ambassadors as they bring you an evening at Albright-Knox Northland featuring performances, a scavenger hunt, music, a movie, food, and artmaking activities celebrating the special exhibition In These Truths. 
The museum will also be accepting donations for Every Bottom Covered during the event:
Disposable diapers (sizes N–7), pull-ups (sizes 2T–5T), wipes, formula, diaper cream, and feminine hygiene products (pads, tampons, panty liners). 
All pay-what-you-wish donations for admission to Albright-Knox Northland during the final weekend of In These Truths, June 3–5, will be donated to African Heritage Food Co-op.
About the AK Teens: Museum Ambassadors
In this program, high school juniors and seniors learn about museum education professions while creating their own activities, lessons, and programs for all ages. Museum Ambassadors culminates in an evening planned by the participants that is geared towards teens and open to the public. This program is open to all Western New York high school juniors and seniors. Each participant receives a $500 stipend. 
June 3 Event Schedule
4–7 pm
Scavenger Hunt
The Museum Ambassadors have created a scavenger hunt for you to explore In These Truths. Complete it and turn it in at the front desk for a prize.
Talk-Back Wall
Experience BLACKMAU's Audacious Black Freedom Dreams, 2022, which explores Afrofuturism as "a lens to talk about equitable futures." Then, create your own work (written or drawn) that explores an alternate universe "free of racism and oppression."
Photo Booth
Capture your truth in our photo booth!
Zine
Grab a zine—an inexpensive printed booklet with empowering forms of expression—inspired by In These Truths. It includes contributions by the youth at Just Buffalo Writing Center.
Just Buffalo's Writing Center is a dynamic, creative community of young writers and artists. Along with access to writing workshops, literary events, and individualized assistance with writing projects, JBWC writers get the opportunity to learn from groundbreaking local and visiting authors and are provided platforms to share their work and talents.
4:10–4:30 pm
Presentation
Stop by the Community Room to hear from the Museum Ambassadors about their experience creating programs, learning about the exhibition In These Truths, and meeting museum staff members.
5–6:30 pm
Drop-In Artmaking with Music
Join the Museum Ambassadors as they lead an artmaking activity. Get motivated with music by a local teen DJ as they spin tracks inspired by In These Truths.
5:15 pm
Movie Screening
Join the Museum Ambassadors in our Community Room for a family-friendly screening of the movie Soul, in which a New York jazz pianist suddenly finds himself trapped in a strange land between Earth and the afterlife after landing the gig of a lifetime. Please register online due to limited capacity. 
5:30–6:30 pm
Collaborative Artmaking
Join the Museum Ambassadors in creating a collaborative mural outside in the Albright-Knox Northland parking lot that answers the prompt: "What do you love about your community?"
6–6:30 pm
Poetry Reading
Listen to poets from Just Buffalo Writing Center read poems inspired by In These Truths.
About the Exhibition
In These Truths is an exhibition of works by Black cultural producers, co-curated by two of Buffalo's most influential, charismatic, and insightful artists, Edreys Wajed and Aitina Fareed-Cooke, in collaboration with Curator of Public Art Aaron Ott. This invitational exhibition focuses on Black artists, emerging and established, who, through a wide range of mediums, provoke and reconsider, defy and embrace, test and talk about our shared reality. 
***
AK Teens is presented by KeyBank in partnership with the First Niagara Foundation. The Museum Ambassadors program is made possible by the generosity of an anonymous donor.
###