Voices in Contemporary Art: Joe Bradley in Conversation with Cathleen Chaffee
Friday, June 23, 2017
7:15 pm EDT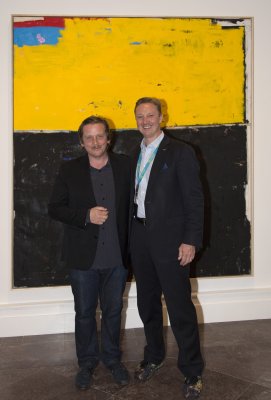 FREE
Auditorium
On the occasion of the public opening of Joe Bradley, please join us for a talk with the artist.
The talk with be preceded by a Members' Opening from 5 to 7 pm, and will take place during a free public exhibition opening from 7 to 9 pm.
About the Exhibition
This mid-career survey, the first large-scale museum exhibition in North America devoted to Bradley's work, celebrates an artist respected for his mutable approach to the practice of painting. Bradley's work includes expressionistic canvases that record the detritus and spontaneity of the studio environment; drum-taut, subtly figurative send-ups of Minimalist painting; starkly primitive glyphs drawn in grease pencil on unprimed canvas and related drawings on paper; graphic silkscreen paintings; and modular Minimalist aluminum sculptures that Bradley pairs with textual directives.
The exhibition will be on view through October 1, 2017.
Exhibition Sponsors

Joe Bradley was made possible through the generosity of Gagosian, The Seymour H. Knox Foundation, Morgan Stanley and the Blue Rider Group at Morgan Stanley.