Virtual Members' and Neighbors' Preview of In These Truths
Thursday, February 17, 2022
6 pm - 7 pm EST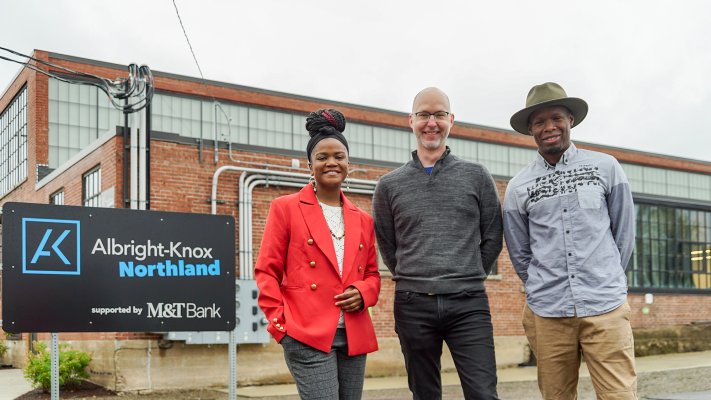 FREE for members and Albright-Knox Northland neighbors
Virtual Event
AK members and Albright-Knox Northland neighbors are invited join us for a virtual behind-the-scenes preview of In These Truths, an exhibition of works by Black cultural producers, co-curated by two of Buffalo's most influential, charismatic, and insightful artists, Edreys Wajed and Aitina Fareed-Cooke, in collaboration with Curator of Public Art Aaron Ott.
This invitational exhibition focuses on Black artists, emerging and established, who, through a wide range of mediums, provoke and reconsider, defy and embrace, test and talk about our shared reality. Collectively they create enduring and fertile forms that stand to profoundly challenge white America's preconceived notions and to proudly present a Black America in all the complexity of its grace, struggle, and accomplishment.
Please register online or contact membership@albrightknox.org or 716.270.8247 by February 15, 2022.
Additional support is provided by ACME Cabinet Co., Baillie Lumber, Judy and David Beech, Mr. Robert M. Carey, Marion and Philip Henderson, Beatrice Joan Lester, Ralph M. Wynn Foundation, and anonymous donors.
The Albright-Knox's exhibition program is generously supported by The Seymour H. Knox Foundation, Inc.