Virtual Homeschooler Workshop: Collage Inspired by Joan Miró's Carnival of Harlequin
Friday, May 14, 2021
12 pm - 1:30 pm EDT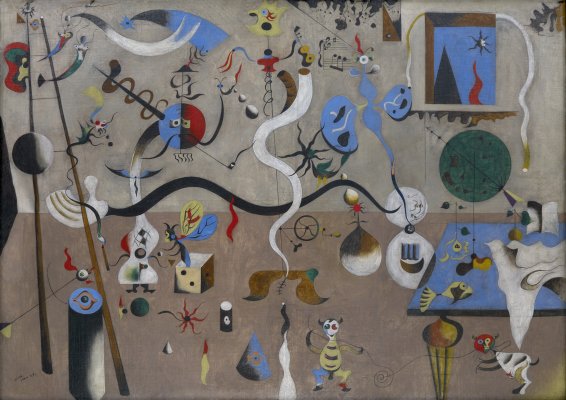 $5 per household
Virtual Event
Encourage your child's love of art with our virtual homeschooler workshops. This week's workshop will focus on collage. Students will learn about Joan Miró's Carnival of Harlequin and create their own artwork.
Materials:
Paper
Pieces (or scraps) of construction paper in various colors
Pencil
Scissors
Glue
Registration
Each class is limited to 15 students ages 5–11. Registration and pre-payment are required. Please register online or call 716.270.8292. Once you register, we will send you details on how to join.
View All 2020–2021 Homeschooler Workshops
About the Instructor
Heather Maher has a passion for art that she loves to share with her students. She feels the most valuable lesson that a student can learn is to develop their own style. She tries to encourage them to be curious and to learn different techniques so they are able to develop the material skills and craft necessary to develop that style.
Maher has a Fine Arts degree from SUNY Geneseo and a Business of Art and Marketing certificate from Buffalo State. She has been teaching students ranging in age from toddler to adult for 21 years; 19 of those years have been with Albright-Knox. She also teaches part-time at Our Lady of the Blessed Sacrament. In addition to teaching, she takes on commissioned pieces and does freelance illustrations. She works mostly with paint (watercolor and acrylic) and graphite. She was honored to be named "Teaching Artist of the Year" by the Arts in Education Institute a few years ago and continues to strive for excellence in the projects and lessons that she develops for her students.