Virtual Drink and Draw with Community Beer Works
Inspired by Works by Ingrid Calame
Thursday, November 19, 2020
5:30 pm - 7 pm EST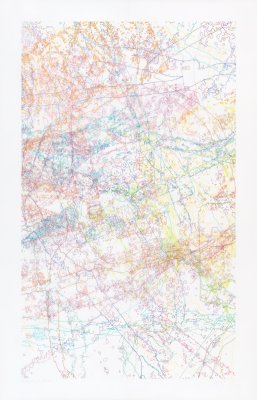 $5 / $3 for members*
$25 for event registration and beer package
Virtual Event
Join educators from the Albright-Knox's Education and Community Engagement department for a guided drawing experience inspired by the work of Ingrid Calame, including her work #313 Drawing (Tracings from Buffalo, NY), 2008, and a beer tasting by Community Beer Works. Participants will learn some introductory drawing skills that center around calming drawing techniques while exploring concepts important to the artist such as pattern, texture, and landscape.
Bring a pencil, pen, marker, crayon, or whatever you like to draw with; some paper; and your favorite beverage! Special CBW beer packages are available for purchase on their website (21+), including two cans each of That IPA, The Whale, and Let's Go Pils.
Registration
Space is limited and pre-registration is required. If you would like to register for the event and purchase the beer package, please visit the Community Beer Works website. Please note that you will need to select a day and time for pickup or delivery. If you would like to register for the event only, please register here. Registered participants will receive a link to join this virtual event the morning of the program.
*All proceeds from this event directly support programs like these. If you are experiencing financial hardship due to COVID-19, please use discount code SCHOLARSHIP to waive your registration fee. (Please note that this does not apply to the beer package.)