Mirror | Mirror
A Summer Celebration
Friday, June 20, 2014
7 pm - 11 pm EDT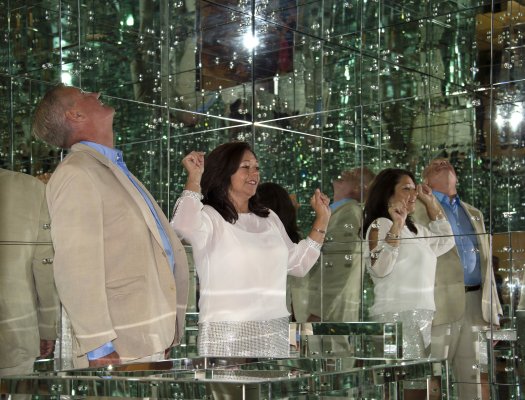 Mirror | Mirror, this year's massive summer celebration on Friday, June 20, was inspired by the return of Lucas Samaras's Mirrored Room, 1966, to the Albright-Knox. More than 1,000 guests shined at the fundraising celebration, which also marked the opening of the special exhibition Lucas Samaras: Reflections.
Guests experienced the Mirrored Room, sharing their #MirroredRoomSelfies; enjoyed pop-up performances by AcroYoga performers, aerialist Ashley Vita Verde, magician Garrett Thomas, and Pyromancy; and danced to music spun by DJ Marcos Udagawa. Six lucky winners went home with great prizes generously provided by Alessi, Chihuly Studios, Diane O'Donnel Contemporary Designs, and Eaton CHOCOLATE.
The evening's carnival-inspired feast—including snacks inspired by carnival games and rides like darts and the Tilt-a-Whirl—was generously provided by Presenting Sponsor Rich's Catering & Special Events, and beverages—including the signature SKYY Vodka Slushie—were generously provided by North American Breweries and Southern Wine & Spirits.
The Albright-Knox extends its appreciation to event chairs Martha and Tom Hyde, Mary and Lou Knotts, Molly and Charles Lambros, Sonja and Janne Sirén, and Carolyn and John Yurtchuk; co-chairs Michelle Capizzi and Annmarie Maxwell; and everyone who came and helped us kick off another great summer. The evening would not have been possible without our many corporate sponsors and special friends.