Community Partners' and Educators' Preview
Tuesday, June 13, 2023
3 pm - 9 pm EDT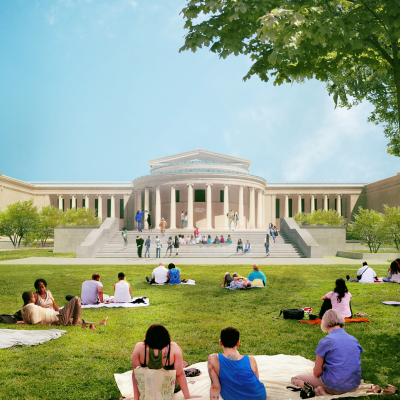 Tuesday, June 13, 2023
3–9 pm 
Special celebration with the Ralph C. Wilson, Jr. Foundation at 5:30 pm 

Please join us for a special preview in appreciation of the local educators and community partners who play a pivotal role in activating the Buffalo AKG Art Museum and sharing its resources with learners throughout Western New York.
Celebrate with drop-in art activities for all ages in the studios of the Seymour H. Knox Building, fun and games on the Great Lawn, and live music in the Ralph C. Wilson, Jr. Town Square. 
Complimentary snacks will be provided, with museum dining and retail options available and food trucks present on campus.
At 5:30 pm, representatives from the Ralph C. Wilson, Jr. Foundation, including life trustee Mary Wilson, will join us to celebrate the community partners, educators, and supporters who have helped conceptualize and create the Ralph C. Wilson, Jr. Town Square. 
Are you a teacher, educator, or community partner that's new to the Buffalo AKG community and would like to register for this event? If you are a teacher or educator, please contact Lindsay Kranz, Manager of School and Teacher Programs, at lkranz@buffaloakg.org. If you are a community partner, please contact Callie Johnson, Director of Communications & Community Engagement, at cjohnson@buffaloakg.org.
Digital tickets are required to attend this event. On your arrival, please present your digital ticket(s) at the Visitor Services entry points marked by tents located at the main entrances of the Jeffrey E. Gundlach and Seymour H. Knox Buildings. For questions surrounding your registration, please contact the Buffalo AKG Events Team, Tori Claflin and Beth Getman, at rsvp@buffaloakg.org.
Find inspiration all year long as a member of the AKG! To share our appreciation, all teachers, educators, and community partners receive 10% off any AKG membership purchased onsite at the Visitor Services desks or Shop during the Community Partners' and Educators' Preview on Tuesday, June 13, only!
SPONSOR

Community Partners' and Educators' Preview is supported by Highmark Blue Cross Blue Shield, Kevin and Rachelle Robinson through the Nicholas D. Patterson Perpetual Fund, and the Zemsky Family Foundation.