Art Truck at Isaias Gonzalez-Soto Branch Library
Wednesday, June 16, 2021
2 pm - 5 pm EDT
FREE
Isaias Gonzalez-Soto Branch Library
Join the Art Truck for a FREE bookmark making activity at Isaias Gonzalez-Soto Branch Library at 280 Porter Avenue in Buffalo. All attendees will receive a bookmark template and a variety of supplies, including markers, colored pencils, crayons, paint sticks, stickers, ribbons, and string. Come and join us to customize your page saver and, after you're done with your activity, check out a book!
---
ASL interpretation for people who are Deaf or hard of hearing is available upon request. To schedule an ASL interpreter for an Art Truck event, please contact Access & Community Programs Coordinator Karen Duval at 716.270.8249 or kduval@albrightknox.org at least two weeks in advance.
The Art Truck is supported in part by the National Endowment for the Arts.
To find out more about how National Endowment for the Arts grants impact individuals and communities, visit www.arts.gov.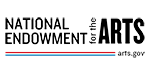 Additional support provided by The Cameron and Jane Baird Foundation, the Robert J. & Martha B. Fierle Foundation, and Lawley.
Access AK is made possible through the generous support of the James H. Cummings Foundation, Inc. Endowment; National Fuel; the Vogt Family Foundation; and an anonymous donor.