Steven Bernstein's Sexmob
Sunday, March 19, 2017
3 pm EDT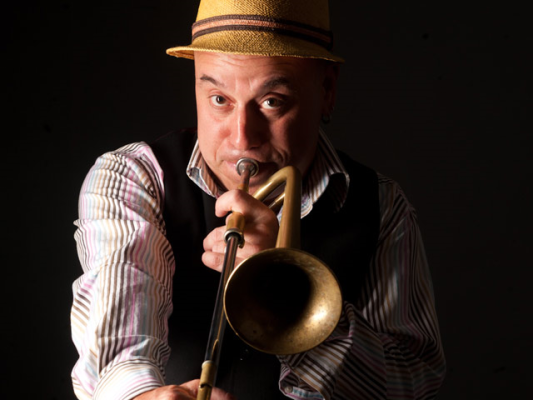 $29 general admission
$24 for AK Members
Auditorium
As one of the original members of the New York City–based Knitting Factory Crew, Steven Bernstein has collaborated with almost every type of musical ensemble imaginable. As a composer, arranger, and improviser, he is recognized for his unique voice, his depth of musical concepts, and a buoyant sense of humor. Sexmob explores the quartet format that was codified by Ornette Colemon, altered by Bernstein's groundbreaking slide trumpet playing. This band is a must see. Bernstein will be joined by Briggan Krauss (sax), Tony Scherr (bass), and Kenny Wolleson (drums).
Tickets
Individual concert tickets are $29 general admission and $24 for Members. Season tickets for all four concerts are available at a discounted rate of $105 general admission and $85 for Members through the first concert on October 29. Tickets can be purchased online at the links above, by phone at 716.270.8292, or in person at the Albright-Knox Admissions Desk. Concerts often sell out in advance of each performance, so please purchase tickets early to avoid disappointment.
About Art of Jazz
The Art of Jazz welcomes you back for an exciting season of performances by a veritable "who's who" of jazz. All of the performers that have been selected for the 2016–2017 series have garnered international acclaim as innovators both as composers and instrumentalists. Audiences are guaranteed to hear new sounds that will pique your sonic curiosity. View All Art of Jazz 2016–2017 Concerts
AK Café serves lunch on Sundays from noon to 3 pm and will serve dinner before the concerts on Saturday, October 29, and Saturday, November 19. Reservations are essential; please call 716.270.8223 or reserve online using OpenTable.