Art of Jazz: Gary Smulyan, "Tadd's All, Folks" featuring Anaïs Reno
Friday, November 10, 2023
7 pm EST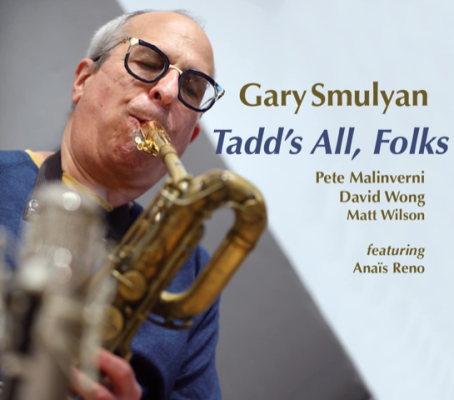 Tickets
Season subscription: $150
AKG member season subscription: $130
General admission (single concert): $40
AKG member (single concert): $35
Auditorium, Knox Building
For more than two decades, the Art of Jazz series has been recognized as one of the premier jazz events in North America. Now, guests are invited to join the museum as this series makes its long-awaited return to the Buffalo AKG. Experience the awe-inspiring musical projects presented by Grammy Award–winners and nominees, competition winners, and some of the most talented artists, composers, and arrangers in jazz. 
Gary Smulyan, "Tadd's All, Folks" featuring Anaïs Reno
Experience a fresh and captivating approach to the timeless music of the legendary jazz composer Tadd Dameron with this extraordinary quintet! Dameron's compositions will be brought to life through mesmerizing vocal performances—an often-overlooked facet of his brilliant legacy. While Dameron himself was not widely recognized as a lyricist, this collection showcases a captivating mix of lyrics by Irving Reid, Bernie Hanighen, and Jack Reynolds that beautifully captures the essence of his modern musical language. 

Enveloped by the skillful artistry of a core combo, featuring the formidable baritone sax solos of multiple award–winner Gary Smulyan, the exquisite piano stylings of Pete Malinverni, the solid bass foundation of David Wong, and the dynamic drumming of Matt Wilson, these vocal renditions truly shine and are only specially presented through this quintet. Anaïs Reno takes the spotlight, effortlessly delivering each song's emotional depth and nuance. 

Immerse yourself in the lush melodies of "Sweet Life," the heartfelt confession of "Never Been in Love," the enchanting allure of "Whatever Possessed Me," and the irresistible groove of "Weekend." Discover the charm of "Lovely One in the Window" and bask in the joyous spirit of "You're a Joy." Each song arranged in this heartfelt project is a testament to the enduring power of Dameron's music, the remarkable versatility of his compositions, and the artistry of Gary Smulyan's quintet. 

Don't miss this exceptional presentation of Tadd Dameron's repertoire, where the worlds of jazz and vocals intertwine to create a one-of-a-kind musical experience. Prepare to be captivated by the enchanting sounds of this extraordinary ensemble as they breathe new life into Dameron's compositions.
 
SPONSORS

 The Art of Jazz series is presented by Hunt Real Estate.