Art of Jazz: Diego Rivera Quintet, "Bridges"
Sunday, February 4, 2024
3 pm EST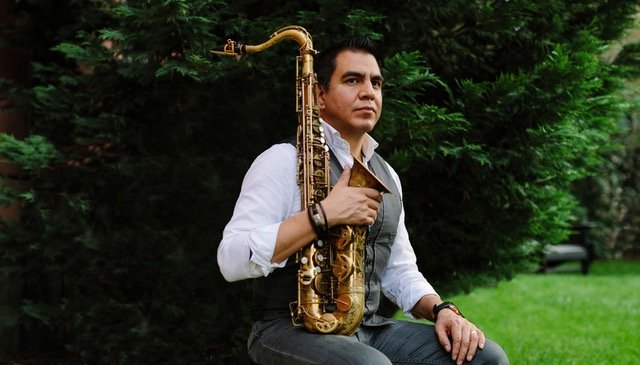 Tickets
Season subscription: $150
AKG member season subscription: $130
General admission (single concert): $40
AKG member (single concert): $35
Auditorium, Knox Building
For more than two decades, the Art of Jazz series has been recognized as one of the premier jazz events in North America. Now, guests are invited to join the museum as this series makes its long-awaited return to the Buffalo AKG. Experience the awe-inspiring musical projects presented by Grammy Award–winners and nominees, competition winners, and some of the most talented artists, composers, and arrangers in jazz. 
Diego Rivera Quintet, "Bridges"
Embark on a musical journey that celebrates a rich tapestry of multicultural influences and the seamless blending of Mexican roots with the vibrant jazz world. Join the Buffalo AKG for a concert featuring the Diego Rivera Quintet, led by the internationally acclaimed saxophonist Diego Rivera. Rivera has quickly risen to become one of the most prominent jazz composers and saxophonists today. 
Drawing inspiration from his Mexican heritage, Rivera's unique music transcends borders and genres, combining Latin America's traditional and folkloric rhythmic flavors with jazz's improvisational brilliance. With his virtuosic saxophone skills and deep musical intuition, Rivera effortlessly bridges the gap between cultures, creating a harmonious fusion that is both captivating and soul-stirring. Their performance will transport you to a world where cultural boundaries dissolve and the universal language of music reigns supreme. 

Funded by an award from Chamber Music of America, Rivera is commissioned to compose new jazz works to follow three groundbreaking and chart-topping albums: Indigenous, Mestizo, and Love and Peace. Experience the magic as the Diego Rivera Quintet takes the stage in a debut performance at the Art of Jazz series with new compositions that will thrill audiences with infectious rhythms, emotive melodies, and masterful improvisations. 

Whether you're a jazz enthusiast or simply curious about the power of music to bridge cultures, this concert promises an unforgettable experience that celebrates diversity, unity, and the beauty of artistic expression.
SPONSORS

 The Art of Jazz series is presented by Hunt Real Estate.