AKGala 2021
Friday, November 12, 2021
6 pm EST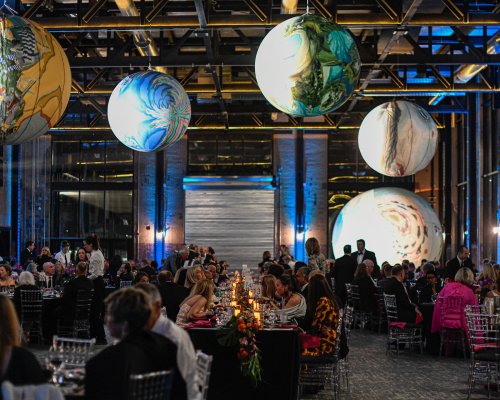 The Powerhouse at Buffalo Color Park
140 Lee Street, Buffalo, New York 14210
Hosted by


Celebrate the power of the arts in our community at the Albright-Knox's signature fall gala. This extraordinary evening not only serves as a vital fundraiser for the museum but is the first formal event to be held at The Powerhouse at Buffalo Color Park, the brand-new event space created by the Williams Family. A dazzling dinner will be served among the grand arched windows of The Powerhouse. We invite you to join us!
Dress in your most creative black-tie and immerse yourself in the joyful, colorful playground installed for one night only by digital artist Anne Spalter. Spalter is known for her bold, large-scale installations based on digital imagery, including her kaleidoscopic collages of tropical destinations. A bright and colorful escape will be the backdrop to this year's gala. Expect a cocktail umbrella in your champagne!
This event is sold out!
All proceeds benefit the exhibition and education programs of the Albright-Knox Art Gallery as it prepares to become the Buffalo AKG Art Museum. For questions regarding ticket or table sales, please contact Katie Homer at khomer@albrightknox.org or 585.746.6937 (cell).
For general questions regarding event logistics and program, please contact the Events Team, Tori Claflin and Beth Getman, at RSVP@albrightknox.org, 716.270.8204, or 716.270.8289.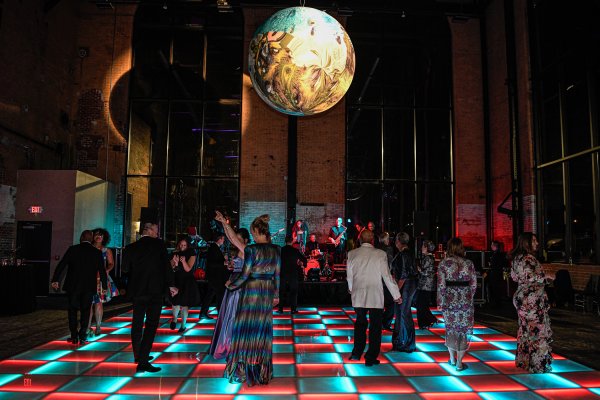 Chairpersons

Heather and Jon Williams
 

Honored Guest

 
Anne Spalter
Benefactor Hosts
 
Susan O'Connor Baird and Bruce Baird
Delaware North
The OSC Charitable Foundation
Tina Sabuda and Chris Bihary
Christine Standish and Chris Wilk
West Herr Automotive
Patron Hosts
 
Aleron
The Balbach Family
Carly and Joseph Battin / Courtney and Nick Sinatra
Ann Bonte and Brent Baird
Cynthia and Frank Ciminelli
Jessica and Matthew Enstice
Frey Electric Construction Company
Cathy and Robert Gatewood
Gilbane Building Company
Hightower LakeWater
Hodgson Russ, LLP
Brooke and Tim Leboeuf
Life Storage
M&T Bank
O'Donnell & Associates
The Pierce Family Charitable Foundation
Nicole and Steve Swift
Sarah Williams and Bob Bojdak
Benefactor Guests
 
Arc Building Partners
Mitchell F. Chan
Ciminelli Real Estate Corporation
Sally and Robert Gioia
Highmark Blue Cross Blue Shield of Western New York
Rev. Sarah Buxton-Smith and Rev. Dr. Stephen J.S. Smith
Michelle and Michael Tuber
Karen and Don Wood
Special Gifts and Arrangements
 
Monica Angle and Sam Magavern
Barbara and Douglas Baker
Penny and Charles Banta
Joe Cascio
Curbell, Inc.
Deborah Ronnen Fine Art
Emily Donnelly
Catherine B. Foley, Paul William Beltz, P.C.
Kate Todd Hubbell
HUNT Real Estate Corporation
Roberta and Michael Joseph
Kimmins Contracting Corporation
Masiello, Martucci & Associates
James & Janice Mazzo
Morris Masonry Restoration, LLC
Sanderson Wealth Management, LLC
Cynthia and Jan van Eck
Jack Walsh
West Herr Automotive
The Albright-Knox would like to extend our deepest thanks to the following patrons for generously underwriting elements that make the evening memorable
Décor support provided by Penny and Charles Banta.
Music from the band, Shine, provided by Curbell, Inc.
Parting favor provided by HUNT Real Estate Corporation.
Art installation support provided by Kimmins Contracting Corporation.
Valet provided by West Herr Automotive.
Photography made possible by Barbara and Douglas Baker.
Committee
 
Susan O'Connor Baird and Bruce Baird
Barbara and Douglas Baker
Carly and Joseph Battin
Cynthia and Frank Ciminelli
Emily Donnelly
Jessica and Matthew Enstice
Cathy and Robert Gatewood
Roscoe C. Henderson III
Kate Todd Hubbell and James Hubbell
Mary Jo and Peter Hunt
Alice and Jeremy Jacobs Jr.
Genevieve and Benjamin Kicinski
Brooke and Tim Leboeuf
Caroline Pierce
Tina Sabuda and Chris Bihary
Sonja and Janne Sirén
Christine Standish and Chris Wilk
Rachel and Scott Stenclik
Nicole and Steve Swift
Sarah Williams and Robert Bojdak