After Hours: A Behind-the-Scenes Look at the Buffalo AKG's Newest Site-Specific Installations
Thursday, September 21, 2023
6 pm - 8 pm EDT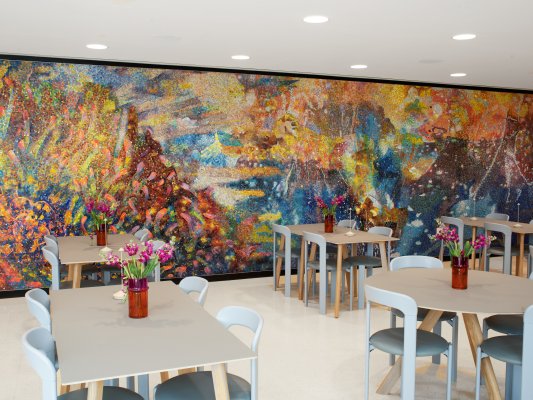 SOLD OUT
Auditorium 
We're sorry, but this event is sold out. There are many ways to experience all that the AKG offers! Visit buffaloakg.org/events to learn more. 
Three newly commissioned site-specific installations by internationally recognized contemporary artists are built into the fabric and foundation of the revitalized Buffalo AKG campus. These large-scale works create immersive experiences for visitors. From conception to installation, each has its own storied process.

Join Associate Curator Dr. Andrea Alvarez for a behind-the-scenes look at these installations and learn more about the artists, materials, and unique processes that created them. Tour all three installations with knowledgeable and passionate Buffalo AKG docents and experience each with enhanced appreciation and new insights.

Featuring:
• Chorus of the Deep (something ephemeral and beautifully whole, when seen from the edge of one's vision, too full when taken head on), 2023, by Firelei Báez
• Common Sky, 2022, by Studio Other Spaces—Olafur Eliasson and Sebastian Behmann
• Others Will Know, 2023, by Miriam Bäckström
SPONSORS

Beverages generously provided by Schutte Hospitality Group and Britesmith Brewing.