Adult Art Class: Intaglio Printmaking—Collagraphs
Saturday, February 19, 2022
10:30 am - 12:30 pm EST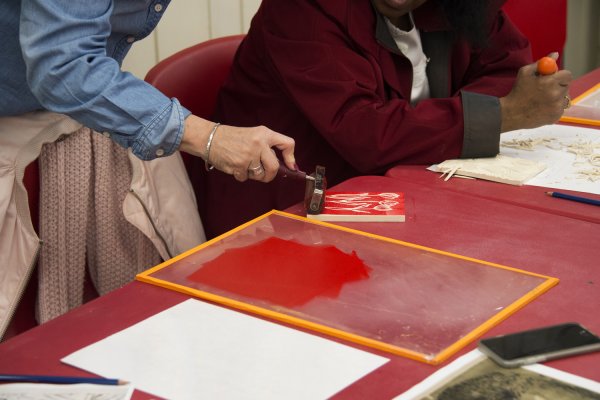 $32 / $27 for members (supplies included)
Albright-Knox Northland Classrooms
In this class, participants will explore collagraph printmaking and create their own works of art to bring home. (Additional classes in this series focus on linoleum block prints and aluminum lithography.)
Collagraph is a fun and easy entry into printmaking. Collagraph prints can be made with an array of materials, including cardboard, yarn, fabric, leaves, masking tape, and more. Each student will be given a plate that they will learn how to prep, develop, ink up, and print from. Each student will go home with five prints and their plate. Students are encouraged to bring in thin textured materials from home to work with.
Registration
Each class is limited to 10 participants. Registration and pre-payment are required. Please register online at the links below or call 716.270.8292. Scholarship opportunities are also available.
Register for Collagraphs on February 19
Register for Linoleum Block Prints on February 26 (Sold Out!)
Register for Aluminum Lithography on March 5
About the Teacher
Andy Krzystek has a BFA in printmaking from the University at Buffalo and is native to the Buffalo/Niagara region. His work is based in drawing, print, and mixed media, with a heavy lean towards mark-making, typography, and the human figure. Having a blind faith in curiosity and a fascination with error, he is always learning (whether he likes it or not) and shows a sense of understanding in his work rather than pushing an agenda.