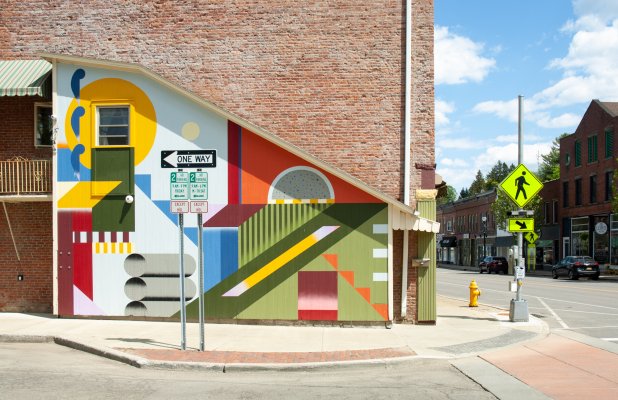 Location: East Main and Mechanic Streets, Springville (Get Directions)
In September and October 2020, artist Bryan Metzdorf spent three weeks in residence at the Springville Center for the Arts (SCA) as part of a collaboration with the Albright-Knox's Public Art Initiative. During his residency, Metzdorf worked with local students in grades K–12 through the SCA and Springville High School, hosted an open-air artist talk for the community, created several studies and finished works that will be on view at Springville's Art's Café, and created a public mural.
Metzdorf designed the mural, titled Before and Not Yet, on-site, borrowing from the existing architectural language and colors of Main Street in Springville. The artist says, "A lot of my work deals with architecture and objects, and how we experience and re-experience places through remembering, misremembering, and recombining elements of these sites. This was an amazing opportunity to do a painting essentially about architecture at the scale of architecture, as well as the opportunity to possibly create a new 'place.'"
About the Artist
Bryan Metzdorf is an artist and commercial designer currently living in Grand Rapids, Michigan. He has conceived and executed immersive, experimental retail and commercial spaces for well-known brands across the country, including working as a Senior Display Artist for Urban Outfitters, where he was charged with designing and prototyping the aesthetic language of the retailer from floor to ceiling. As an artist, Metzdorf's practice shares roots with his professional work but results in dynamic abstract geometric compositions that range beyond pure design aesthetics. He is heavily inspired by built environments around him, often breaking large structures down into smaller forms, which he then recontextualizes into new compositions resulting in his collages, illustrations, and paintings. 
Initiative Sponsors

The Public Art Initiative was established and is supported by leadership funding from the County of Erie and the City of Buffalo.